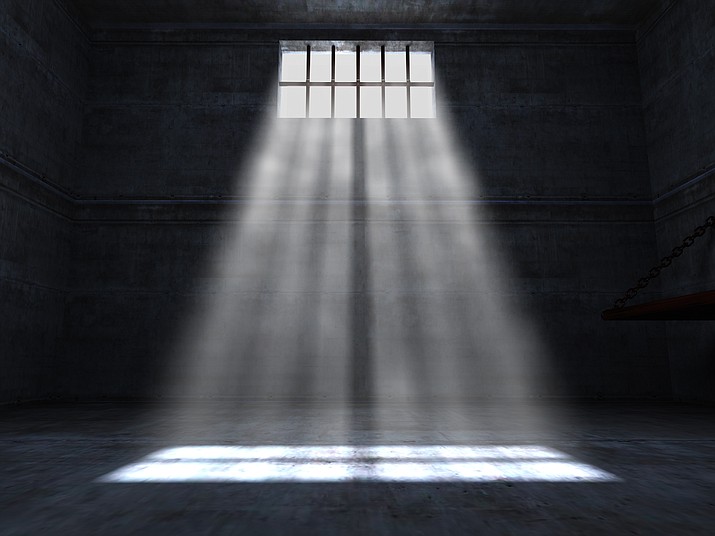 Originally Published: January 23, 2018 5:59 a.m.
This is the final part of a three-part series in an attempt to find answers to the three deaths over two months in 2017.
The first successful suicide attempt at the Mohave County jail in 14 years happened April 2016. Luckily, staff were just around the corner and revived the inmate.
"Watching the tapes of these officers, they were administering CPR like I've never seen anybody else," said Capt. Don Bischoff of Mohave County jail. "They brought him back."
Mohave County employs two psychiatrists who provide services at the jail, one is full-time, one is part-time. The main priority for any inmate who has verbally communicated their intent to commit suicide, or the staff has reason to believe they have the intent, is that they are made safe. Whether that is removing them from a housing pod, or if during the intake process removing shoelaces, belts or "anything they can hurt themselves with," Bischoff said.
If an inmate in the intake area is actively trying to cause harm, additional restraints may be necessary, Bischoff continued.
If an inmate is placed on suicide watch, they are referred to one of the mental health professionals, who is the only person who can take an inmate off suicide watch. That means if an inmate is placed on suicide watch over the weekend, unless it is an extreme emergency that would bring the mental health professional in, they are kept on watch through the weekend or until the mental health professional can speak with them.
When an inmate is placed on watch, a nurse is contacted and the shift supervisor is informed.
"We take all comments as serious," Bischoff said. "Everybody that works here takes it seriously."
Bischoff said no matter the circumstances, an in-custody death is a tragic thing. Sometimes things happen back-to-back, sometimes there are long periods of years when it doesn't happen.
All staff at the Mohave County jail are trained in suicide prevention, and every year all the staff have to go through a refresher program as well as pass a test at the end of the course. Bischoff said about 10 years ago, the jail received medical accreditation for the suicide prevention program, and they work continually to make it better.
Staff complete the program "7 Minutes to Save," which comes from Correct Care Solutions. The main takeaways from this program are screen, look, listen, communicate, monitor and follow up. That is, screen for suicidal thoughts, plans or intent, look for any inconsistencies between reported mood and affect, listen for words that don't match actions, communicate with staff involved in monitoring, monitor status of risk and protective factors, and follow up daily.
According to this program, two-thirds of suicide victims report their intent and most of in-custody suicides occur by either hanging or strangulation. The highest risk times are within 24 hours of incarceration, especially if it is the inmates first arrest or incarceration. When an inmate is placed in isolation or they are intoxicated or detoxing, can also be high-risk times for suicide attempts, though as the program emphasizes, suicide can happen at any time.
Inmates who are higher risk individuals are any who have made previous suicide attempts, those with mental illness or if they have a family history of suicide. The program goes on to describe suicidal behaviors, list suggested questions to ask inmates and what staff should do if they suspect an inmate is considering suicide.
It isn't just staff at the Mohave County Jail who deal with suicide attempts. Kingman Police Department also responds to calls of attempted suicide.
People who have expressed by word or action that they are a threat to themselves are evaluated by medical staff, said Rusty Cooper, Deputy Chief of KPD. Medical staff provide direction as to whether the person should be processed in accordance with Title 36 – Mental Health.
"Title 36 is comprised of Arizona statutes that cover public health and safety," Cooper said.
Title 36 patients are transported to the emergency department for evaluation and official Title 36 designation, before they are transported to a MMH facility.  
"Unless they have committed a crime these folks are not arrested," Cooper said. "They may be forcibly detained ... for their safety or the safety of others, while they can be evaluated by mental health or medical staff."
Cooper said all of these types of calls for service are treated as real, until it is determined otherwise. There is some room for officer discretion. Any time that officers detain, use force or arrest a person, it requires a police report.
If someone is known to have tendencies to be dangerous or a threat to first responders or otherwise, KPD does have a system that flags the person or address, Cooper said. This allows dispatch to follow certain protocols and send at least two officers, where only one might be required under normal circumstances. The same applies to emergency medical response. A flagged person or address might require an officer to respond to provide protection for the paramedics, where otherwise an officer would not be required.
After the successful suicide attempt in April 2016, Bischoff said administrators took a look at their suicide prevention program to see if something needed to be changed. What Bischoff said they noticed was a lack of documentation. There was a disconnect. Inmates would be put on watch, but there wouldn't be a report stating they were on watch, or the shift supervisor wouldn't be notified. Bischoff said they tweaked the program, and since then the documentation process has improved.
No matter the outcome of a suicide attempt, there is always an incident report, and any time an attempt is successful there is an administrative review. Any time there is an in-custody death, staff walk through the reporting process, administrators review the cases and anything they find that they can improve upon, they do. In the case of a suicide, there is also a psychological autopsy as well.
"We do care. We don't want them to hurt themselves," Bischoff said. "These things are going to happen, and all we can do is try to reduce the severity and frequency."
Bischoff said Mohave County Sheriff's Office responded to 80 suicide attempts in 2017, 30 successful suicides, and over 50 drug overdoses. Most agencies don't report these calls to the media, Bischoff said.
"This is not uncommon, just not as well-known," Bischoff said.
In 2017, Bischoff said there were an average of 22 suicide watches per month, with 45 suicide watches in December and 20 in November.
Officers make revival efforts, and all officers are trained in CPR, first aid, and the use of AEDs. Everybody, including administrators like Bischoff, gets refreshers every year on their revival efforts as well as the suicide prevention training.
"Jail is a stressful place," Bischoff said. "No one wants to be here. Sometimes we get guff, but there is a lot that happens behind the scenes. We try to do everything we can to prevent (in-custody deaths). We are constantly evaluating and re-evaluating. We don't ignore this stuff."