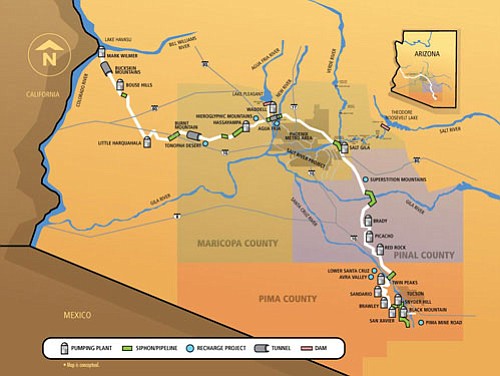 Originally Published: January 28, 2018 5:59 a.m.
KINGMAN – Mohave County representatives say a meeting with Central Arizona Project leadership earlier this month was not very productive.
Five county officials met with six of their counterparts from Central Arizona Project Jan. 17 to discuss the details of the agency's plan to divert water from the Mohave Valley Irrigation and Drainage District to towns in Maricopa, Pima and Pinal counties.
CAP is in the due diligence phase of a $34 million sale with a pair of New York City hedge fund firms to purchase seven farms totaling approximately 2,200 acres of farmland in Mohave County with approximately 14,000 acre feet of diversion water rights from the Colorado River.
If the sale proceeds, it would send 5,500 acre feet of Colorado River water to central Arizona annually.
Since the sale was announced last year, Mohave County has been opposed to what it believes is a water grab.
"At the meeting, CAP presented their stand and we stood firm on ours," said Supervisor Lois Wakimoto. "Nothing has changed."
Though the meeting was awkward, Wakimoto believes it's important to keep talking.
"An open dialogue is important whether things change or not," Wakimoto said. "The fact that we've made the effort, on both sides, and not shut the doors on each other is huge."
Mohave County Assessor Jeanne Kentch also was looking forward to the meeting with CAP.
Kentch was especially interested in hearing the water agency's thoughts on how it would offset the losses in property taxes if the sale is approved.
"They didn't mention this," Kentch said. "I thought that was interesting. What they did share was that it's their job to find more water for central Arizona. We shared our resolution that we were going to do everything we can to protect our water no matter what. Then, we sat and looked at each other. There was a lot of silence. It was the oddest thing."
Although the chance that an open-door policy may pay off, while keeping the threat of legal actions on the table, the county has a glimmer of hope that the sale will be prevented by the Mohave Valley Irrigation and Drainage District.
The land sale is contingent on an amendment or revocation of an irrigation district resolution that prevents water from leaving Mohave County.
"The key to the water transfer is on the shoulders of the MVIDD," Wakimoto said. "If they do not change this resolution, it ends. But, that's not to say CAP won't come back and try again."
A change in the resolution has yet to come before the irrigation district's board of directors. An update on the due diligence phase of the sale is scheduled for MVIDD's board meeting Thursday.
Representatives from the Central Arizona Project could not be reached for comment.
More like this story