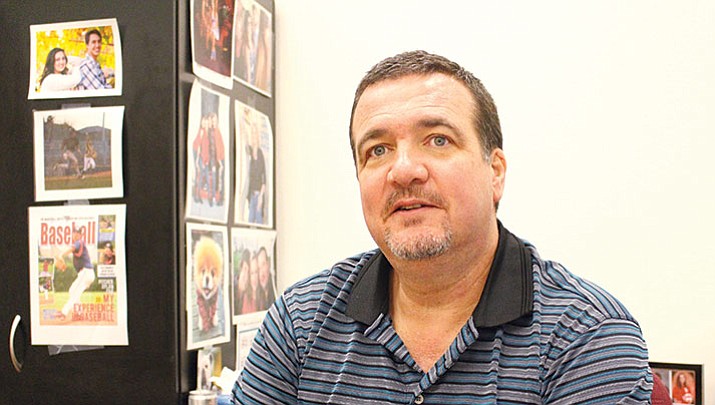 Photo by Hubble Ray Smith.
Originally Published: January 31, 2018 5:54 a.m.
KINGMAN – Two school officials will be giving a lesson on what's happening in local education when Mohave Republican Forum meets at 5:30 p.m. Feb. 7 at Golden Corral Restaurant, 3580 Stockton Hill Road.
Guest speakers Mike File, superintendent of Mohave County Schools, and Susan Chan, executive director of Kingman Academy of Learning, will talk about their educational philosophies, teacher shortages, school funding and such, and then entertain a question-answer session with the audience.
With what most of the Forum's older membership would consider unruly student behavior, the topic of corporal punishment at school is likely to be broached by Forum President Richard Basinger.
He's also expected to bring up recent allegations that charter schools are discriminatory in their enrollment criteria. KAOL has not been mentioned in those allegations, but is restrictive in its enrollment.
It's an opportunity to get an update from respected education leaders and to address issues important to the future of Kingman.
"Remember that the quality and availability of education factors into the value of your home, and the implementation of economic development, which includes having higher-paying jobs come into the community," Basinger said.
There's a $2 cost to cover the meeting facility, and early-bird dinners are available until 4 p.m.
The Forum is being held on the first Wednesday in February to leave Valentine's Day open, and will resume on the second Wednesday in March.
For reservations, email Rita Basinger at basingerreb@gmail.com or call 928-692-4771.
Arizonans support increased teacher, student funding
PHOENIX – Arizona voters have expressed overwhelming support for increased teacher and student funding, according to a survey from Expect More Arizona, a nonprofit education advocacy group.
It's the third straight year that education topped the issues facing Arizonans, with 42 percent naming education in the open-ended question asked of 600 likely voters in a December poll by HighGround.
Border issues and illegal immigration were next at 16 percent, followed by government spending and taxes (5 percent); the economy (5 percent); and jobs and wages (5 percent).
Drilling down on the survey results, a majority of voters (86 percent) across all political parties say K-12 teacher salaries are too low, and that K-12 public education is receiving too little funding in Arizona (76 percent).
When asked to consider the top issues facing education in Arizona, voters checked budget and lack of funding (31 percent), teacher salaries (19 percent) and teacher shortage (8 percent).
Asked to rate a list of items in terms of funding priorities for education, three of the top five highest rated items have to do with teacher pay.
Results of another survey by Stand for Children-Arizona are similar and reinforce the need to address education funding as soon as possible, said Christine Thompson, president of Expect More Arizona.
"We are encouraged to see continued support from voters statewide for Arizona's teachers and students," she said.
The organization's priorities for 2018 include promoting policies to identify struggling students early and address the growing achievement gap; support reinvestment in Arizona's community colleges; and support continued progress toward funding half of Arizona's university resident students.