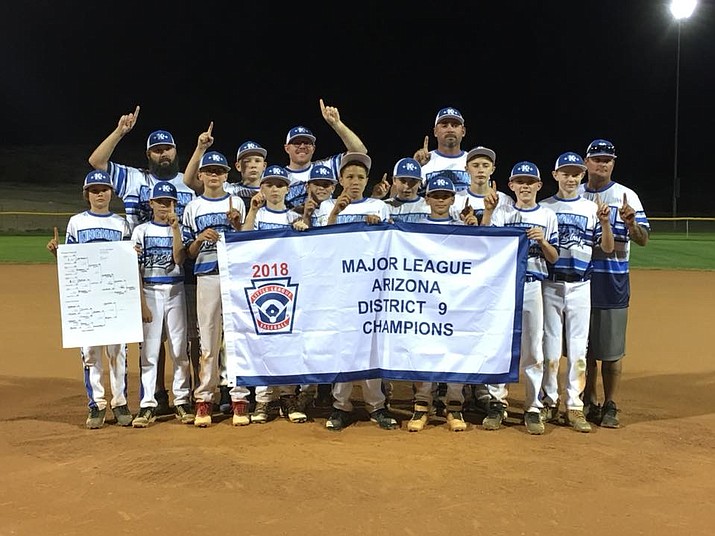 Originally Published: July 1, 2018 6 a.m.
KINGMAN – Kingman had a chance on Thursday to win the District 9 championship, but lost to Needles. They did not make the same mistake on Friday beating Needles in the second game of their matchup and winner take all contest, 5-2.
Kingman's defense and pitching was the difference in a defensive battle. Reilly Feil pitched 5 1/3 innings for Kingman allowing two earned runs and striking out six batters.
"Reilly was spot on," said Chad Benson, manager for Kingman North. "He threw a fantastic game against a tough hitting team. That's what we needed. We needed pitching to step up and he definitely stepped up tonight."
Kingman scored two runs in the first inning to put the pressure on Needles early. Feil and the defense sat down the first three Needles batters to keep the early 2-0 lead. Kingman impressed on defense, retiring the first nine Needles batters in order.
"The defense played really good," Feil said. "They (Needles) hit grounders and we fielded them and got the outs."
Needles' defense also shut down Kingman after the first, and it was still a 2-0 game heading into the fourth. Needles decided to change that. With a runner on base, Needles' Dyron Miller stepped up to the plate and hit a bomb over the fence for a two-run home run. Flashbacks of the night before started happening, and Needles fans and players were ecstatic.
The next batter followed with a deep ground-rule double into center field. Benson quickly made a visit to the mound.
"I went out there to the mound and told them to settle down," Benson said. "I told them, guys hit home runs and to just relax and reset. I wanted them to just keep working hard."
Feil struck out the next batter and then induced a groundout to end the inning tied, 2-2.
Kingman came out on a mission in the top of the fifth looking to get on base any way they could. Feil got on base with a walk to start the inning, and Needles could not find the strike zone and loaded the bases. Kingman scored twice on walks, and then Cade Benson's single drove in one. Needles switched pitchers and it got out of the jam, but Kingman lead, 5-2.
That would be all Kingman needed to win as Feil finished the fifth striking out three batters. After Feil got one out in the sixth he was replaced on the hill. Two outs later, Kingman North became 2018 District 9 champions and one tournament away from the Little League Western Regionals. Kingman fought hard for the win and booked their ticket to the state tournament.
This the first time in Kingman North Little League's 37-year history that its 10-12 all-star team has advanced past the district tournament.
Kingman will look to fix the errors before the next tournament and focus on limiting mental mistakes.
"It's been a good experience so far," coach Benson said. "I just want them to keep having fun and playing as hard as they can. Thanks to all the parents. Coaches Steve Petrauschke, Jerome Heitzman, and Drew Sutherland did an amazing job. Thank to everyone for supporting us and hats off to the players for this huge accomplishment."
Kingman was forced into Friday's one-game winner-take-all contest after they let an early 3-0 lead disappear Thursday. Needles came back to win 9-6 and forced another game to be played.
Kingman opens the Arizona state tournament in Scottsdale July 17.