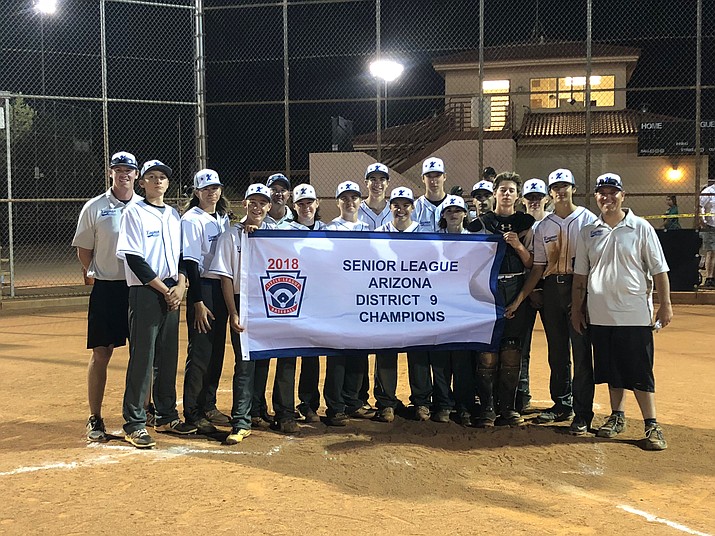 Originally Published: July 1, 2018 5:59 a.m.
KINGMAN – Good pitching and better defense helped the Kingman Senior All Stars win the District 9 Tournament Thursday night against Blythe at Southside Park. In a best-of-three series, Kingman won the second game 4-2 to complete the sweep and end the tournament.
Garrett Diem pitched the first five innings. He struck out three and allowed one earned run. His stellar pitching was key to Kingman starting the game strong. Kingman struck out five times offensively, but the defense saved the day playing flawlessly in the outfield and infield.
Kingman's hitting came alive in the second inning with Diem hitting a leadoff triple that put Kingman in scoring position. Chris Caron followed with a double that scored Diem, and Gage Edwards' sacrifice fly plated Caron and Kingman led, 2-0.
"The team effort was big." said Shane Peterson, Kingman manager. "We played great as a team. Everybody played their role and gelled together."
Kingman added another run in the third inning, and Blythe tried to make a comeback in the fourth. Blythe loaded the bases and after a shot to the outfield the Californians could only get one baserunner home. Diem struck out the last batter of the inning and escaped still leading, 3-1.
Kingman came back on the attack and scored another run when Manny Equibel's RBI single scored Jacob Graffius to move Kingman ahead, 4-1.
Blythe had one more comeback attempt in them, and it added another run in the sixth inning. Kingman's lead was cut down to 4-2, but Blythe still could not get any closer. Kingman shut the door in the seventh, and became District 9 champions.
"Every kid battled," Peterson said. "Everybody had their shots at bat and everyone did their part."
Kingman moves on to the Senior State Baseball Tournament in Mesa and opens play at 5:30 p.m. Friday at Stapley Junior High, 3250. E. Hermosa Dr. Peterson will be working on the little things to make his team better before they leave for Mesa.
"There is always room for improvements," Peterson said. "The little stuff and taking care of the baseball are big. I want them to play hard and have fun."