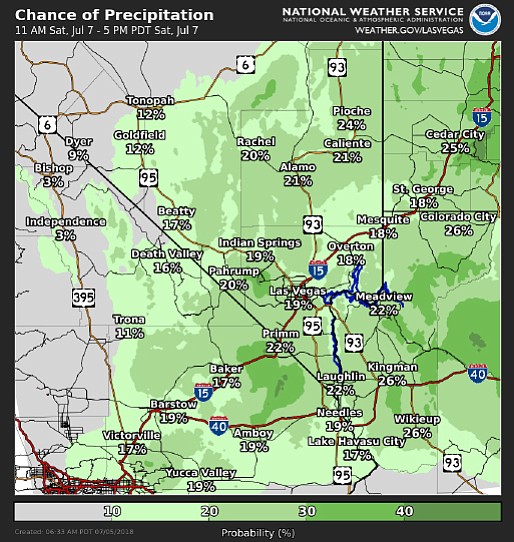 Originally Published: July 6, 2018 5:57 a.m.
KINGMAN – It looks like the first good push of monsoon moisture for the year will begin Friday and continue into the weekend, the National Weather Service reported Thursday.
Low- to moderate-grade monsoon moisture will likely spread from southeast California into northwest Arizona and southern Nevada late Friday throughout Saturday, leading to thunderstorm activity with the potential for isolated strong winds and flooding.
"We would recommend a reminder to the public that the confidence in weather forecasts typically decreases significantly during the monsoon season," NWS meteorologist Alex Boothe said in the latest briefing.
Moisture is likely to remain in place into next week, providing fuel for thunderstorms, he added.
Confidence is high that temperatures will be increasing to "potentially hazardous levels" Friday and Saturday, with an excessive heat warning issued for northwest Arizona.
The forecast for Kingman, Bullhead City and Lake Havasu City calls for triple-digit heat and thunderstorms, which could lead to sudden damaging wind gusts and flash flooding. Locals may feel a little uncomfortable due to humidity and hot temperatures.
Information provided by National Weather Service