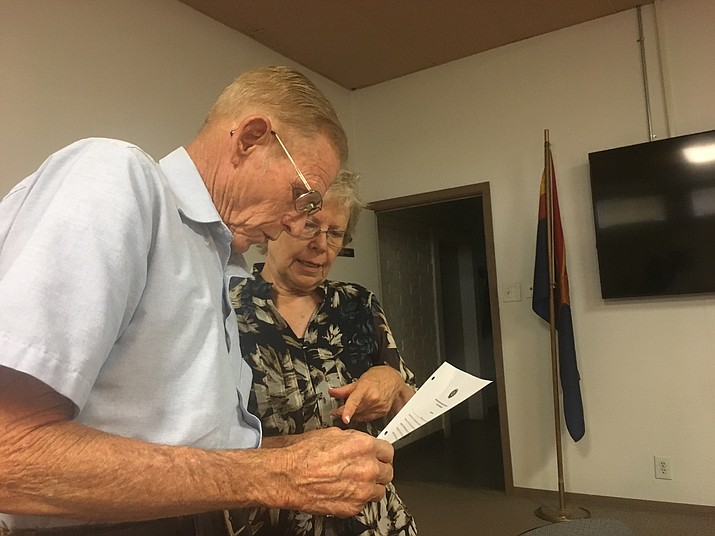 Originally Published: July 12, 2018 5:59 a.m.
KINGMAN – John Bryant, a former facilities manager and engineer in Southern California, was appointed Tuesday to fill the vacancy for the Northern Arizona Consolidated Fire District governing board by a unanimous 4-0 vote.
He joins Carl Hays and Erik Berg, who were appointed in May, and will have to file for election when his term expires in September.
"He brings a lot of knowledge and experience. His resume looks pretty good," director Mike Collins said before nominating Bryant from among six applicants.
Bryant said he believes in giving back to his community. He volunteered as a section chief for emergency response in Blythe, California, and has been active in the local Neighborhood Watch program.
Bryant was instructed to have his appointment paperwork notarized and filed with the Mohave County Board of Supervisors.
In the only other business at the special meeting, the board selected HR Strategies of Tucson as the recruitment firm for NACFD's fire chief at cost of $16,000 to $19,000.
HR Strategies has done work for the fire district in the past, and the company's proposal was the most encompassing, including an assessment center to test fire chief candidates, Collins said.
In May, the board terminated the contract of Fire Chief Wayne Eder, who was rehired in March 2017. He was embroiled in conflict-of-interest charges regarding a fire truck repair at former board member Vic Riccardi's repair shop in Valle Vista, and was blamed for sending an empty water tender to a fire in the Butler area.