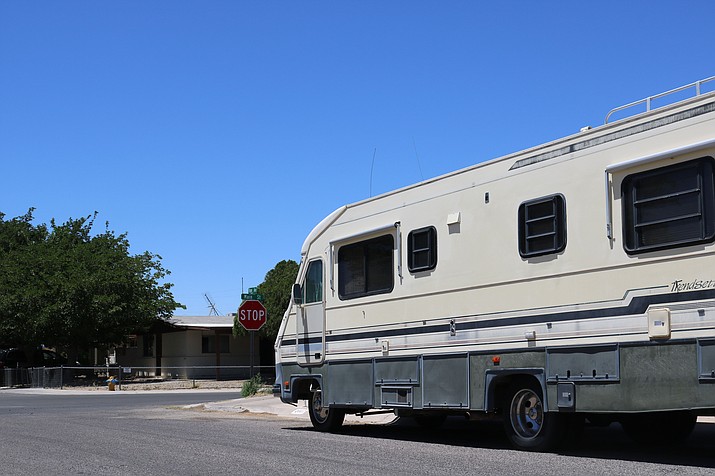 Originally Published: July 12, 2018 5:59 a.m.
KINGMAN –After hearing pleas from community members who are against the City considering a ban of on-street parking for recreational and other similarly-sized vehicles at its meeting Tuesday, the Planning and Zoning Commission has decided to hold a public hearing on the matter to get additional input from citizens.
"You don't have enough storage lots in this city for the amount of people that you're now going to tell get your RVs and boats and get them off the street," said Kingman resident Ron Bahre.
He said if there is an amendment to City code, it should include language that makes the change "worthwhile and enforceable" which would require including a clause that says the amendment doesn't go into effect until there is adequate storage space available for those vehicles.
Commission Chair Gary Fredrickson said that many of Kingman's streets are 30-feet wide, and two cars being parked on either side of the street makes for a dangerous situation. He also mentioned that while he recognizes there is a shortage of RV storage facilities in Kingman, he is an RV owner himself.
"I myself have been an RV owner for 30-something years," he said. "You know going in when you're buying this recreational vehicle that if you don't have storage on your property that you're going to have to be looking for a place to put it in storage."
Referencing comments he's seen on Facebook, Fredrickson said that he doesn't believe any of the commissioners own RV storage lots, so any recommendation made to Council would not be done for financial gain.
At its June 5 meeting, Council directed the commission to consider relevant zoning ordinance amendments should Council decide to ban on-street parking of recreational vehicles, boats and trailers.
The commission discussed the issue at its June 12 meeting. Its revised recommendation limits RV parking on streets in residential districts to no more than 72 consecutive hours, and requires those and similarly-sized vehicles to be located behind the front plane of the structure located on the lot as opposed to behind a 6-foot, sight-restrictive wall. Parking of large vehicles, like RVs and boats, would not be permitted on residentially zoned land if there is not a residential structure present.
Another resident, Judy McAuliffe, said she moved to Kingman four years ago to be around down-to-earth people. She decided to lease a camper since she could not afford to purchase one new or used. McAuliffe is concerned that she will have to get rid of the camper if on-street parking is taken off the table.
"There's no sense," she said. "Where's our dream? Where's Kingman, what I thought was Kingman? I don't see it."
Stanley Hicks said the inability to park his RV on his own driveway, as City code doesn't allow for those vehicles to be parked in driveways, is "such an intrusion on my private property."
"If we're talking about the commission recommending changes to this ordinance, one of the changes should be if you have a driveway, paved or gravel or whatever, I as a common citizen should be able to put my property in my driveway," Hicks said.
The commission will hold a public hearing on the matter at its next meeting at 5:30 p.m. Aug. 14 in Council chambers, 310 N. Fourth St.