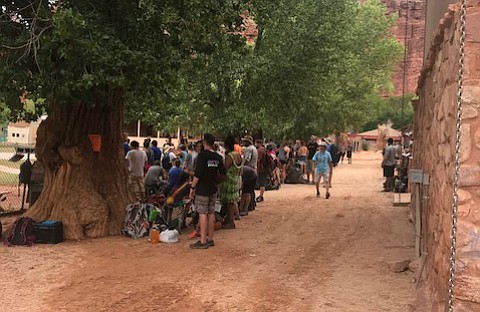 Originally Published: July 12, 2018 3:04 p.m.
SUPAI – All visitors at Havasupai Falls were evacuated from floodwaters Thursday and were flown from the canyon by helicopter to the hilltop.
Indian Route 18 is open to southbound traffic leaving Supai, but no inbound traffic other than law enforcement is allowed. Contrary to some reports, the American Red Cross and National Guard have not been dispatched to the canyon.
The Arizona Department of Public Safety has a field officer in Supai to assist Tribal leadership in assessing and evaluating the situation.
Authorities are also closely monitoring reports from the National Weather Service.
Tourists with confirmed reservations for the coming weeks should contact their travel advisor for more information, not the Tribal Tourism Office. All phone lines are being used for emergency services.
ORIGINAL STORY
The Havasupai Tribal Council has closed the Havasu Canyon to visitors for 7 to 10 days due to Northern Arizona's monsoon rains causing a flash flood at Havasupai Falls.
Two waves of flooding, one of about 7 feet, hit Supai before dark Wednesday, and another that hit at around 3:30 a.m. Thursday, caused the closure. There were approximately 200 tourists in the area at the time but there are no reports of anyone missing or seriously injured.
The Tourist Office and Emergency Response Team evacuated the campgrounds and opened the community building and school for people to sleep. Cell and water services are operational at the village, and the café remains open. No visitors have been evacuated from the village, which has so far remained untouched by the flood waters. However, there is significant flooding in several buildings from rain water. Indian Route 18 is also closed until further notice.
Grand Canyon Caverns will provide breakfast, shower facilities and access to telephones for those who have been evacuated. Tourists with upcoming reservations should contact a travel adviser for additional information and not the Tribal Tourism Office, as the office's phone lines are being used for emergency services.
For pictures and videos of the flooding, go to Facebook.com/groups/Havasupai.
Information provided by HMA Public Relations