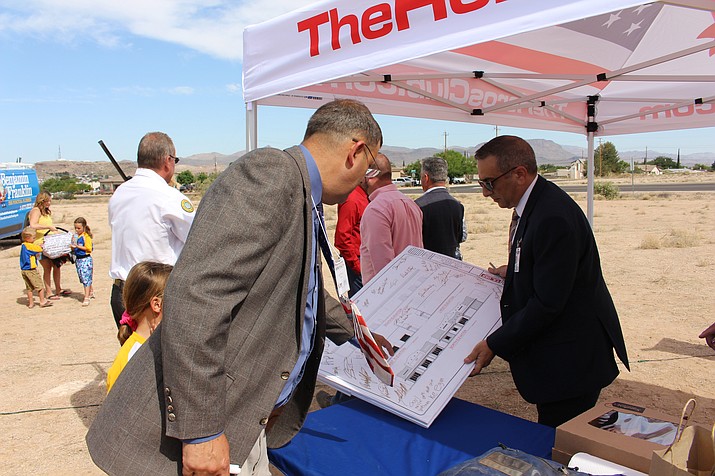 Originally Published: June 6, 2018 5:15 p.m.
KINGMAN – Larry Thornton believes as much in Kingman's future as he does in Jesus Christ, having purchased a little over 2 acres on Hualapai Mountain Road under the name Joshua 1:8 Investments LLC to expand his heating, plumbing and air conditioning business.
He quoted the Bible verse about how to be prosperous and successful during Wednesday's groundbreaking for a 16,000-square-foot commercial building at 2604 Hualapai Mountain Road, which will be the new home for Pitzer's One Hour Air Conditioning and Benjamin Franklin Plumbing.
He was so confident of his success that he planned the event before receiving final approval Tuesday from City Council on rezoning the property from residential to commercial in the Hualapai Mountain Road Overlay District. The City also waived his building fees.
Thornton is laying out more than $2 million for his building, with T.R. Orr as his general contractor and financing from Horizon Community Bank. Construction is expected to be completed in January.
His business will occupy 9,600 square feet, and the remaining 6,400 square feet is being offered for lease.
Thornton moved to Arizona from Minnesota 18 years ago with his wife, Terri, to become minority partner in Pitzer Air Conditioning, first locating in Lake Havasu City. He'll never forget packing his U-Haul in 50-degree weather in Duluth and unpacking in 110-degree heat in Havasu.
"We couldn't find a church we liked in Lake Havasu City," Thornton said. "We just fell in love with this town (Kingman) and moved here in 2004."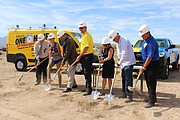 He set up shop at 2310 Kingman Ave., and now has seven locations in Kingman, Lake Havasu City, Bullhead City, Prescott, Cottonwood, Phoenix and Las Vegas. His company services 55,000 square miles with a fleet of 85 trucks.
The company currently has about 50 employees, and will be adding 10 employees with the expansion, Thornton said.
"For every job you get, there's an impact of more jobs," said Bennett Bratley, economic development director for Mohave County. "Their salaries are $40,000 on average. That's higher than the average salary in the county. People make those wages and spend those wages and that produces other jobs in the community."
Gary Kellogg, economic development director for the City of Kingman, said the company's $2 million payroll supports about 80 other jobs indirectly and generates another $11 million in economic impact. The new building will bring in $268,000 in taxes.
"It's just beautiful to see this come about," Kellogg said. "I always get excited about entrepreneurs like Larry. They lay it on the line and take a risk."
Thornton mentioned his "Hero's Club" for all active duty and retired military personnel, along with first responders such as police and firemen, who receive free maintenance work on air conditioners and plumbing, a $300 value.