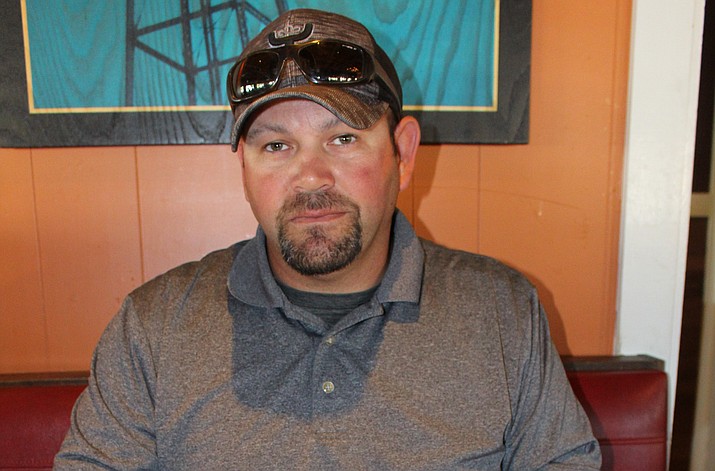 Originally Published: June 12, 2018 5:53 p.m.
KINGMAN – Mike Collins carried a manila folder bulging with financial audits of the Hualapai Valley Fire District, later merged into the Northern Arizona Consolidated Fire District, into Chili's restaurant Tuesday to prove his statements about the district's million-dollar debt left by former Fire Chief Wayne Eder in 2008.
The audits, conducted by James Saunders CPA of Glendale, showed an unreserved fund balance of $165,181 in 2007, with expenditures about $50,000 over existing income.
As of 2007, the district carried $806,000 in long-term debt, including $207,000 for a new fire engine and $327,000 for a ladder truck.
Outstanding debt topped $1 million in 2008, totaling nearly $1.3 million with new equipment and compensated absences. The district was $28,657 over budget, some of it from costs related to consolidation of Hualapai Valley, Chloride and Truxton fire districts to form NACFD.
"So when I say we were over $1 million in debt, that's where that number comes from," NACFD board director Collins said during an hour-long explanation of why the board fired Eder in May from his second stint as fire chief.
"It's okay to buy new equipment, but you can't go into debt doing it," he said.
Eder was brought back by a 3-2 vote in March 2017, but two of three board members who voted for him were indicted on conflict-of-interest charges regarding mechanical work on a fire truck, and resigned from the board as part of their plea agreement. Chairwoman Patti Lewis, a staunch supporter of Eder, followed with her resignation.
Collins, who worked for the Kingman Fire Department from 2002-2005 and was elected to the NACFD board in 2008, said the audits found material deficiencies in financial reporting and accounting transactions.
Charlotte Wells, who was rehired as fire district attorney at a special meeting in May, notified Saunders in October 2009 that the district had retained an accounting and finance consultant experienced in fire districts. The accounting system was moved from an individual desktop to the district's server to enable monitoring by the consultant and administrative staff.
One of the sticking points for a group of citizens opposed to the board's actions is the purchase of a 12,000-square-foot building at 2600 Northern Ave. for $500,000 in 2012, paid to Butch Krabbe. The building was supposed to be used as a new fire station, but has sat empty except for storage space.
The preliminary plans were sent to the county for review and that's where it slowed down, Collins said. It was during the Great Recession when property tax revenue fell dramatically for the fire district.
Collins noted that board member Vic Riccardi, who was at the center of the conflict-of-interest charges, made the motion to buy the building, and the vote was unanimous.
The building is now assessed at $700,000, and Collins said he would rather build it out and get rid of the current NACFD Station 31 on Northern Avenue.
Also, Emergency Medical Technician certification was required when the fire chief position was first advertised in 2017, but it was lowered to Emergency Medical Responder for Eder, Collins asserted. EMRs are not allowed to administer medicine, start an IV or give someone oxygen.