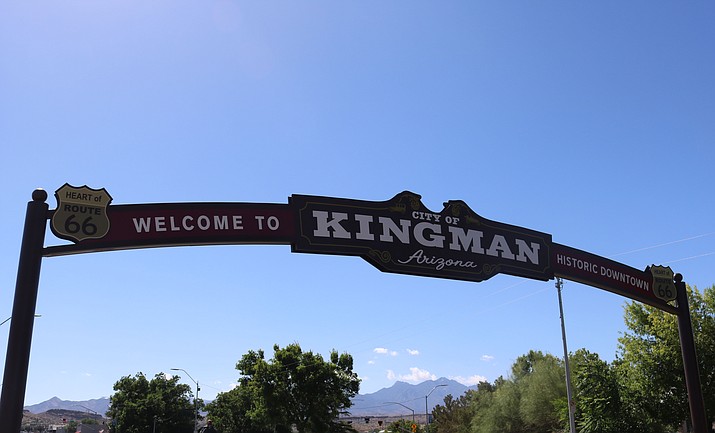 Originally Published: June 17, 2018 3:19 p.m.
KINGMAN – Kingman Main Street is happy with how First Friday and various improvements on Beale Street are being received by the community, but knows there is always room for improvement.
Councilwoman Jaime Scott Stehly told those at Main Street's meeting Thursday of her idea to advertise Beale Street and all it has to offer by taking out advertising on the fence across from Locomotive Park. She said the sign could point tourists further downtown to see the shopping, breweries, food and arts Kingman has to offer.
"So when you're taking pictures of the train, you're not going to miss this big sign that says move down a little further," Stehly said.
The group also discussed how best to go about revitalizing downtown, with Stehly giving a brief overview of Main Street America. That program in 2017 saw $4.48 billion reinvested, more than 8,700 buildings rehabilitated, and 30,000 new jobs. For every $1 reinvested in downtowns, there was a return of more than $26.
There are four components of a Main Street program that Stehly would like the group to focus on. The economic vitality portion that builds a diverse economic base, designing an inviting and inclusive atmosphere than celebrates Beale Street's historic character, and organizing the group so as to better engage with the community and forge partnerships. The last step is promotion. More detail on those steps and on Main Street America can be found at mainstreet.org.
First Friday is being well attended each month, but Main Street wants to do more. Sarah Ferry suggested that artificial grass being rolled onto the street serves to make Kingman's wide streets more welcoming during First Fridays. If businesses are interested in creating a "pop-up park" near their establishment, they could even have different themes.
For more information on how Kingman Main Street is working to revitalize downtown, or to donate to the mural project at Beale Street Theater, go to kingmanmainstreet.com. The group is seeking to raise $5,000 for the theater mural, with $2,500 as a commission for the selected artist and the remaining funds to go toward travel and project expenses. Artists wanting to submit a concept must do so by July 15, and can get started by going to kingmanmainstreet.com.
Members from Kingman's Main Street group will meet with City Manager Ron Foggin this week to discuss the project's goals and to speak about the process of becoming a 501 c3 nonprofit organization.