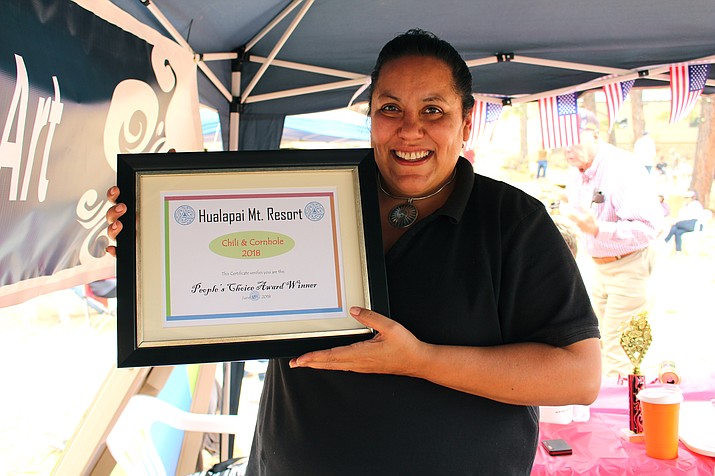 Originally Published: June 17, 2018 2:47 p.m.
KINGMAN – Saturday afternoon didn't seem like a summer day. It was relatively cool with some breeze blowing. Although it was a cool afternoon, the chili cook-off brought some heat to the mountains.

The Hualapai Mountain Resort and the Pine Lake Fire District had its chili cook-off to benefit the fire department. Attendees tasted various chili's and would donate to their favorite. At the end, the money that was collected went to the fire department and the chili chef with the most donations won the people's choice award.
Susannah Bauer of Kingman, a first-year competitor, took home first place. She prepared for the event by making her own apron with a "save the earth" theme, and taking four hours to make the pot of her award-winning chili.
"I had the tingles and chills. It was hard to believe," Bauer said.
Her chili is a mildly spicy, made with chuck roast, and smoked bison, which she does herself.
Not only did she win first place, but she also took home the people's choice award. Winning the award gave her chills and she took home a plaque, corn-hole set, a set of knives, tickets to the circus and two free tickets to an Arizona Cardinals game.
Roxanne French from Lake Havasu City won the people's choice award last year with her "flatliner's finest chili." Her chili is spicy but the perfect kind of spice where it's enjoyable. She also adds, chuck roast, pork, and no beans.
Bill Ekstrom of Billy Bob's Chili, has been in the chili competition for 20 years and part of several teams.

"It's a good fundraiser and we tease each other about chili recipes," Ekstrom said.
His chili is mild at first but toward the end there's a small rush of heat on the taste buds. He adds a Mexican flare to his chili by adding Mole, which is a traditional Mexican sauce made from various spices and chocolate. In his chili he uses spices from Terlingua, Texas, which is the home of the Chili Appreciation Society International Terlingua International Chili Championship. He's been in several chili cook-offs in the area like Dolan Springs, Lake Havasu City and Bullhead City.