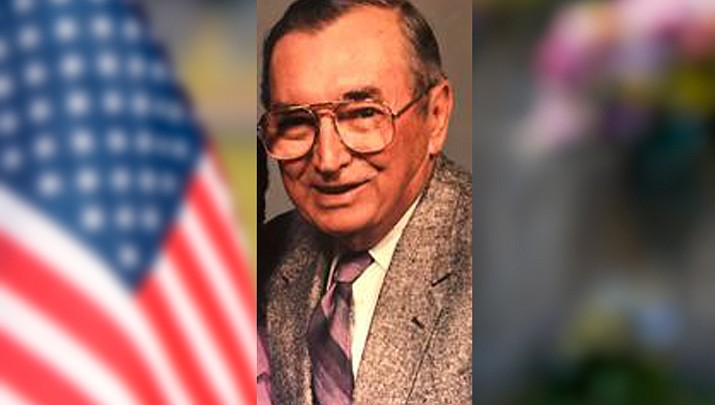 Originally Published: June 18, 2018 5:59 a.m.
Clifford H. Kern, born on March, 11, 1923, in Cincinnati, Ohio, passed away on Wednesday, June 13, 2018 in Kingman. Arizona.

He was the son of Clifford C. Kern and Marion Kern, was raised in Hamilton, Ohio and graduated from Hamilton High School in 1941.

Following the bombing of Pearl Harbor, Kern joined the Army Air Corp and served as a Tail Gunner. His B17 was shot down during the attack on the Ploiesti Oil Fields in Romania where he was taken Prisoner of War. Clifford was discharged from the service in 1944 with the rank of Staff Sargent. In 1944 he married his high school sweetheart, Mary K. Eggleston, and moved to Arizona in 1948.

Clifford Kern was a resident of Kingman since 1965 and made many contributions to the community. He was a member of Kingman Presbyterian Church where he served as an Elder and Treasurer for many years. He was a lifetime member of the Kingman Elks and served as the President of the Mohave County chapter of the American Ex-Prisoners of War.

He is survived by three children, Donna K. Bleyle (Carl) of Show Low, Ariz., Thomas M. Kern(Sue) of Kingman, Arizona and Dean A. Kern (Monica) of Alexandria, Virginia, and four grandchildren, Thomas Kern, Scott Kern, Lori Gregory and Kim Fuqua.
Memorial services will be held at 2 p.m. Wednesday, June 20, at Kingman Presbyterian Church.
In lieu of flowers, donations may be sent to one of Cliff's favorite charities. Kingman Presbyterian Church, 2425 Detroit Ave., Kingman, Arizona 86401-4224, The Salvation Army, 1200 E. Andy Devine Ave., Kingman, Arizona, 86401 or Cornerstone Mission, 3049 Sycamore Ave, Kingman, Arizona 86409.