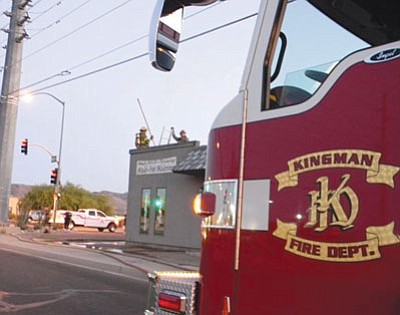 Originally Published: June 20, 2018 4:55 p.m.
KINGMAN – The Kingman Fire Department goes above and beyond in serving the community. This year they have been awarded the Billy Goldfeder Fire Service Organizational Safety Award by the International Association of Fire Chiefs Safety, Health and Survival Section.
The nominating process is done anonymously and the recipient of the award goes to the department baded on what they have done, what they have accomplished and what they're going to do.
"Receiving this award is a testament to the type of people we have at the Kingman Fire Department," said Jake Rhoades, KFD chief.
KFD took the steps over three years ago to further the health and wellness of the department. Initiatives taken to ensure the health and safety of its firefighters include physical fitness, mental fitness and minimizing carcinogen exposure.
"Our program has vastly improved the physical and mental fitness of our personnel as well as identified potential health issues that we have been able to proactively address for the long-term health of our members," Rhoades said.
The department has implemented steps to reduce carcinogen exposure by decontaminating on scene by using its "cancer buckets." The buckets contain special types of wipes, brushes and soaps to get the grim off after firefighters are done with a fire.
"What we do is cancer awareness and eliminate exposure so you don't have to breathe the toxins in," Rhoades said.
The cancer awareness buckets are on every engine for the crew to utilize after every fire and decontaminated from any lingering chemicals exposed in the fire.
On top of physical readiness and reducing carcinogen exposure, the fire department has also instituted a peer-to-peer program where 15 personnel have received extended training in peer-to-peer behavioral programs.
"This program has been tremendously successful to not only our department but to neighboring departments," Rhoades said. "We make our peer-to-peer team members available to other departments as needed."
The award is sponsored by the Volunteer Firefighter Insurances Services and will be presented to the fire department during the Fire Rescue International Aug. 8 in Dallas. Chief Jake Rhoades, Asst. Chief Keith Eaton and Asst. Chief Chris Angermuller will be attending the event to accept the award.