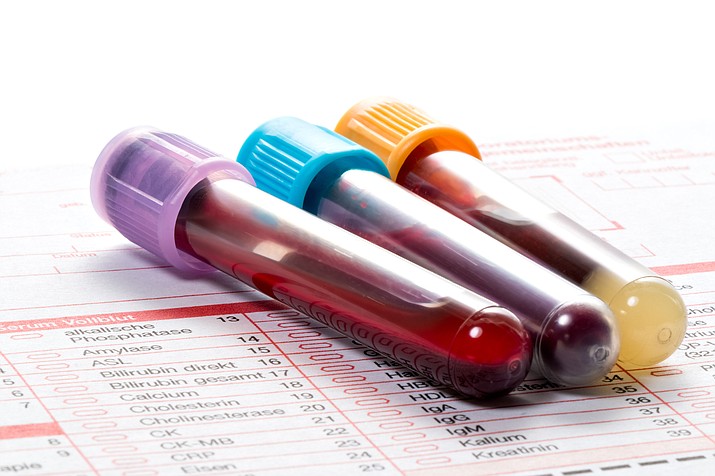 Originally Published: June 21, 2018 4:19 p.m.
KINGMAN – A lot of doctor appointments include the need to conduct further examinations to determine your condition. The doctor may ask for a blood, urine or stool sample and send it off to the lab for testing. Another scenario may be when you have an organ removed, or just a piece of it, so medical professionals can test to see what is going on inside the body.
The lab services within Kingman Regional Medical Center is where all of these type of samples go to be tested.
One of the doctors behind the microscope is Ryan Swapp, a pathologist that looks at blood, tissue, and other parts of the body that arrive at the lab.
The process for testing the different specimens in the lab takes a lot more work than perhaps the average person might realize.
"It's far from a machine spitting out an answer," Swapp said.
Either he or a technician will evaluate the tissue that needs testing, for example a uterus. The doctor or technician take samples of the uterus and puts it into a processor to extract the water from a piece of the organ.
The tissue is put into a cube of wax that is cut down into thin slices so it can be evaluated under a microscope. The slices of wax are stained with different substances to see what is wrong with the tissue. Some of the special stains that are used are to determine if there is a form of cancer development in the tissue.
KRMC lab has about 60 different stains that can determine if there is something wrong with a tissue. In case the lab doesn't have a certain stain, then the specimen will be sent out to another lab to determine the condition of the specimen, Swapp said.
Swapp also said that there are times when doctors ask for a tissue to be tested while the patient is still on the surgery table and this process takes about 20 minutes to compete.
Once the results of the tests are compiled, lab services forwards them on the doctor who will brief the patient as to the outcome.