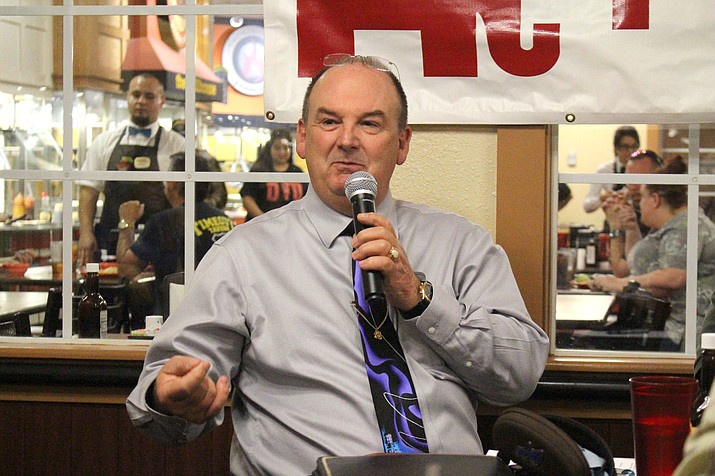 Originally Published: June 21, 2018 5:49 p.m.
With more revenue coming into Mohave County coffers than anticipated, next year's budget is in much better shape than the past few years.
Although it's hard to make a crystal ball prediction on how the 4 percent increase in projected revenues for 2018-19 may affect future budgets, County Manager Michael Hendrix said he is pleased there is no need for a property or sales tax increase next year.
"It's not a given that we are going to receive that increase in revenue in the future. It's based on projections and our best guess," Hendrix said. "However, a subsequent year affects the coming year. If we over project it impacts how much money we can carry over and how much of our contingency funding we would have to spend to balance at the end of the year."
If revenues are underestimated and spending overestimated the county benefits, Hendrix added.
"If it's the other way around then there are consequences," he said. "We have to learn from the past and try to balance the next year's projections accordingly."
During Monday's tentative budget adoption, Mohave County Board of Supervisors opted against an in-depth look at specific departments such as the health of the library district or sheriff's office needs which were in question this year.
The lack of a close analysis during the public meeting was not surprising, Hendrix said.
"There is everything out there for them and they've had the budget long enough to take a look at it," Hendrix added. "We were not asking for any increases, but this doesn't mean they might not bring up specifics at the final budget hearing (Aug.20) because everything is fair game."
Mohave County's tentative budget for next fiscal year contains several key proposals including a pay raise for a significant portion of its workforce.
Out of the more than 1,260 county employees, 530 of them will see up to a 5 percent raise in pay in July; however, the number of employees could change based on retirements, resignations and new employees.
Several factors will allow for the raises including projected revenues coming in nearly 4 percent higher than expected. Approximately $1 million will be used from the general fund to pay for the increases.
Among the other budget proposals is $3.4 million budgeted for Public Safety Personnel Retirement System (PSPRS) and the Elected Officials Retirement Plan (EORP) unfunded liabilities.
The expenditure of $2.4 million will keep the district on track to pay off its $20 million PSPRS debt in 20 years. The additional $1 million will be reserved to address repayment to EORP once the state decides what Mohave County's share is to that unfunded liability.
The final major budget proposal provides $500,000 to the sheriff's department to cover the ongoing cost of funding employee compensation. Last year, the board voted to sweep $500,000 from the landfill fund to pay for the county's law enforcement salary needs.
"The good thing is that we were able to fund this without any increases in property or sale tax," Hendrix said. "Everything is pretty straightforward, but you never know what the supervisors will do."
One of the questions is the restructuring of the economic development director position. The proposal is to return the position to a true director under the direction of the county manager. Currently, the economic development director office is placed under the responsibility of the Development Services Department.
"Basically it's a one-man show, taking care of all duties," Hendrix said. "The director – Bennett Bratley – is definitely a benefit to Mohave County … but I think he should answer to me and not the Development Services Director."
As a liaison to industry and developers, the director's role includes guiding people through the permitting process and courting businesses to open shop in Mohave County.
"I believe we are on the cusp of development and if we were to lose the director for any reason we would be behind the eight ball and hard-pressed to find anyone else especially for what we are paying him."
Currently, Bratley's salary is $67,496. Based on an operating budget of less than $250,000 annually, the industry standard base salary range is $76,500 to $120,000, according to a Mohave County analysis.