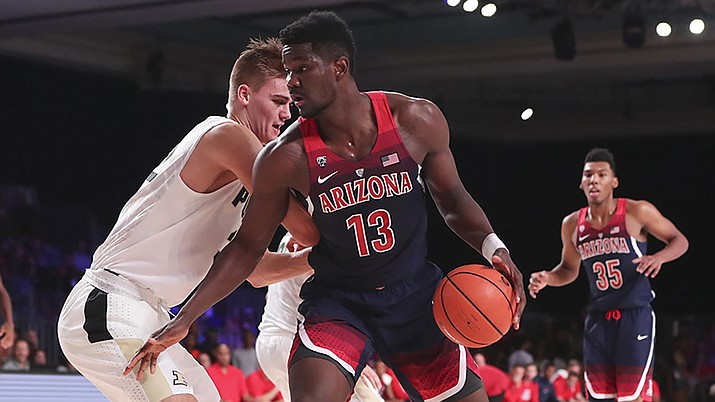 Originally Published: June 21, 2018 6:23 p.m.
PHOENIX (AP) – For most of their half-century of existence, the Phoenix Suns have coveted a big-time center.
In 1969, they lost the coin flip with Milwaukee for Lew Alcindor, now known as Kareem Abdul-Jabbar, and chose Neal Walk at No. 2. The closest they came was Alvan Adams, an All-Star on some very good teams. Shaquille O'Neal made a cameo appearance late in his career.
But a big, young franchise center to build around eluded them – until now.
With the first overall pick in the draft for the first time in franchise history, the Suns believe they have their man in 7-foot-1, 250-pound Deandre Ayton, whose size, athleticism and multiple skills made him the obvious No 1 overall pick Thursday night.
The center from Arizona averaged 20.1 points and 11.6 rebounds in his lone season in Tucson, tying for the national lead with 24 double-doubles in 35 games.
He joined Mychal Thompson – father of Golden State All-Star Klay Thompson – in 1978 as the only players from the Bahamas to be the No. 1 pick in the NBA draft.
"Having my name called to be the first pick for the Phoenix Suns was mind-blowing," Ayton said. "Having all that confidence and leading up to that point when I saw Adam Silver came out, I was just waiting for my name, and when he called it, my mind went blank."
The Sacramento Kings followed by taking Marvin Bagley III, the Duke big man who played with Ayton at Hillcrest Prep Academy in Phoenix in 2015-16.
The Atlanta Hawks swapped the rights to Luka Doncic, the No. 3 pick from Slovenia, to Atlanta for Trae Young, the No. 5 selection from Oklahoma.
The Mavericks also gave up a future first-round pick to draft Doncic, who only arrived in New York on Wednesday after helping Spain's Real Madrid win its league championship after he won Euroleague MVP and Final Four MVP honors when they won that title this year.
His lengthy European season kept him from working out for teams but he knew the Mavericks liked him.
"I've been talking to Dallas a lot. They really wanted me, and they were very, very nice," the 19-year-old said. "They were very nice to me, and I think we had a very good relationship."
The Hawks will get perhaps the most exciting player in college basketball last season, the first player to lead the nation in scoring and assists in the same season.
With Jaren Jackson Jr. going fourth to Memphis, Texas center Mo Bamba going No. 6 to Orlando and Wendell Carter Jr. following to Chicago, it was an early run of big men in what's increasingly become a perimeter-based league.
Then it was another guard with Alabama's Collin Sexton going at No. 8 to Cleveland, triggering chants of Michael Porter Jr.'s name by Knicks fans who hoped they would take him with the No. 9 pick. But they ended up disappointed as New York went with Kentucky's Kevin Knox.
With concerns over back problems that limited him to only three games at Missouri last season, Porter ended up falling all the way to Denver at No. 14, the last lottery position.