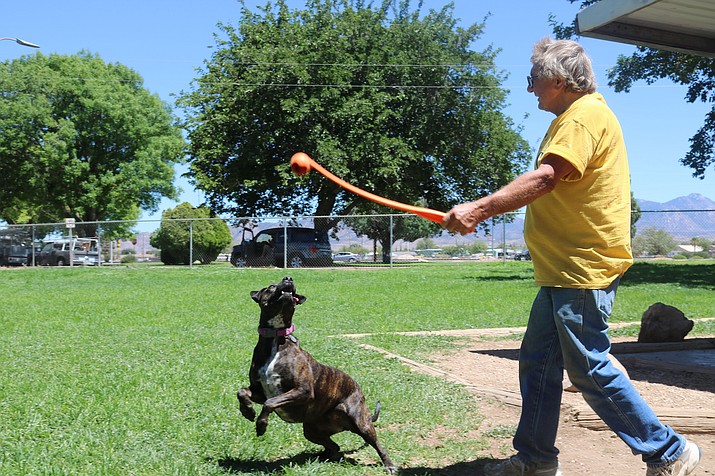 Originally Published: June 21, 2018 6 a.m.
KINGMAN – One sure way to upset dog owners is by failing to provide room for their furry friends to run and play, but with what the City of Kingman has planned for the future in terms of dog parks, there's no danger of that happening.
Mike Meersman, parks director, says the City has two new dog parks in the works that are included in the 2018-19 budget. One new park will go into the Walleck and Legacy neighborhoods, the other at the northwest corner of Centennial Park.
The City of Kingman has issued more than 1,600 licenses since it began licensing dogs in July 2016. All those dogs need a place to exercise, so the community reached out to the City and expressed interest in additional dog parks. Meersman said the parks commission took those comments to heart.
"Well we looked at various sites, got input from our commission members and then looked at the sites that we came up with," he said. "We looked at space at Centennial Park that is really underutilized."
The park at Centennial will actually consist of two parks, one large and one small, and both will be by the outfield at field seven. About $6,000 is needed to install fencing, bag containers, signage, gates and portable restrooms for the park, which will have an area of about 28,000 square feet.
"We'll add a fence and have a very nice dog park area," Meersman said of the future site, which already has trees and grass.
The park at Walleck Legacy, which will be located at Coronado Avenue, will require about $5,250 for fencing and bag containers, $1,000 for excavation brush removal and another $2,400 yearly for portable restrooms. The park will be just under 12,000 square feet.
"We're not going to have turf at that one, it's just going to be dirt with fencing just for people to take their dogs and let them run in there," Meersman said. "We'll remove the weeds and keep it clean, and we'll keep the area tilled and smooth."
Meersman explained that this is one of the Parks Department's busiest times of year, but once everything slows down work will begin on the Centennial and Walleck Legacy dog parks.
"Probably by September or October we'll get going on them, and we should have them open not long after," he said.
For those wondering where money for the dog parks will come from, the Fiscal Year 2018-19 budget that was approved by Council at its meeting Tuesday increases parks and recreation funding by about $330,000.
But that's not all. The Parks Department has plans for a third, and larger, dog park at the storm water catch basin at Louise Avenue and Railroad Street. The department hopes to have that project included in next year's budget.
"I put it in to try to get it done this year, but we're spending a lot of money in a lot of other places, and we can't spend it all on dog parks," Meersman said.
The park at Louise and Railroad will encompass an area of about 280,000 square feet. What's more is that the perimeter of the park will be nearly a mile and will include a walking path on the inside of the fence.
Covers will need to be placed over culvert pipes at the site to ensure dogs can't sneak out of the park in an Andy Dufresne, "Shawshank Redemption" type escape. Concrete will be poured over the water entrance areas to make a path, trees and brush will be trimmed and weeds will be addressed.
"I've gone there with my dogs just to check it out," Meersman said. "It's going to be a very nice place. It's a great big wide-open area."
The area will require more work than the other two parks because of its proposed size and due to the fact that it is a storm water catch basin. Installing bag containers and fencing will cost $1,000, brush removal $2,000 and safety covers for the culverts $4,500. Portable restrooms will cost another $2,400 per year.
With the two new dog parks and the potential for a third, the City of Kingman is adding 8 acres of dog exercise areas for its citizens and their pets to enjoy.