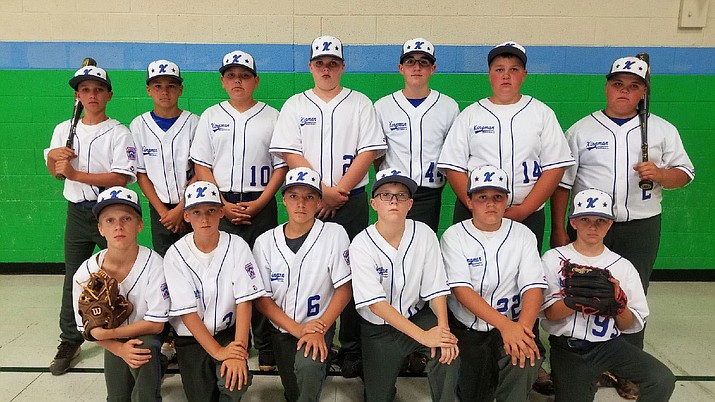 Originally Published: June 22, 2018 6 a.m.
KINGMAN – Experience is a key component for most teams to win, and the Kingman South 10-12 All Stars have just that. A team with one 10-year-old, three 11-year-olds and the rest 12-year-olds is full of experience and ready to compete.
"A lot of experience," said manager Shane Duraggo. "A lot of returning players from last year, so hopefully that helps us out.
Duraggo knows this team has what it takes to win. The offense and defense is balanced, and over the course of two weeks, the team has come together to support each other.
"We are looking good," Duraggo said. "We have some good pitching, and defensively, we should be OK. If we can swing the bat like we can,we should be there."
Experience is also a strength Duraggo knows his team has, but even with that mental mistakes are still possible and something he hopes his team can avoid.
"Short-term memory," Duraggo said. "If you make a mistake, let it go. They are 10, 11 and 12-year-olds that are going to make mistakes. Mental and physical mistakes are going to happen, but we have to keep our head in the game."
Josh White is one of the 11-year olds on the team and is excited to play in his first 10-12 All Star game. This is a new experience for him, but Josh is ready for it.
"I have made an all star team before, but didn't get a chance since I was broke (hurt)," Josh said. " I want to pitch and I want to hit better."
Aiden Duraggo is one of the veterans on the team playing in his fourth all-star game. Aiden knows the pressure of being in a tournament like this, but is also aware that to win mental errors need to be minimized.

"Honestly, my main goal is to go out there and not make any errors," Aiden said. "I am just going to go up there and rip the ball."
Kingman South plays Parker at 5:30 p.m. Friday in the first round of the District 9 Tournament at Southside Park.
Duraggo has confidence in his team and the returning players know the drill. He knows they will make mistakes, but hopes they can go on the field and just enjoy themselves.
"Just have fun." Duraggo said. "That's the main thing. Do not stress."