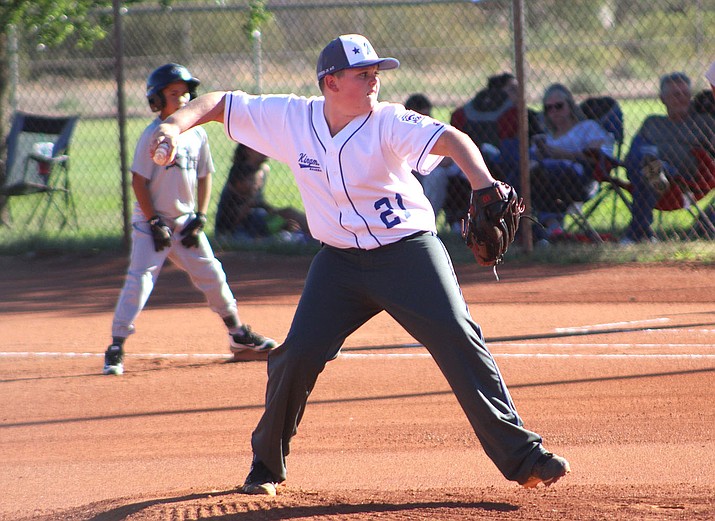 Originally Published: June 23, 2018 4:53 p.m.
KINGMAN – The Kingman South 10-12 All Stars kicked off the District 9 Tournament with an 11-1 win against Parker Friday.
Paul Nicholson Jr. pitched great for South – striking out two batters in the first to set the tone for the rest of the game.
"PJ's location was a bit off in the first inning," manager Shane Duraggo said. "But we got him settled down and he was on target. He threw well."
Kingman came out in the bottom half of the first inning hitting hard, and scoring four runs to take the lead, 4-1.
Nicholson settled down and struck out two straight batters and made Parker hit into a flyout to end the top half of the second. Kingman hit into three straight ground outs in the bottom of the second.
Nicholson continued to pitch great with two strikeouts to start the third and forced Parker into a ground out.
Kingman went on the attack in the bottom of the third starting with a walk from Albert Lopez. Dylan Norbert had a big double that helped bring in two runs and kept the momentum going. South went on to score seven runs in the inning to lead, 11-1.
"The team hit the ball well," Duraggo said. "Everybody hit the ball and I am proud of the way they hit it."
Nicholson came on in the top of the fourth and struck out the last three batters to seal the win. He finished with nine strikeouts and was the key to the team's big win.
"I had some stress on me," Nicholson said. "We wanted to get out of here early. I just wanted to get those three out and go home."
The team had a great hitting effort with Chase White being one of the standouts, going 2-for-3 with two triples.
Kingman plays Needles at 8 p.m. Saturday. Needles beat Mohave Valley 11-3 in the first round to advance to this game. Duraggo knows either of those teams would be tough and looked for his guys to continue to play confident.
"I know the next game is going to be tough," Duraggo said. "We just have to stay focused, keep attacking at the plate and I think we'll come out with the win."