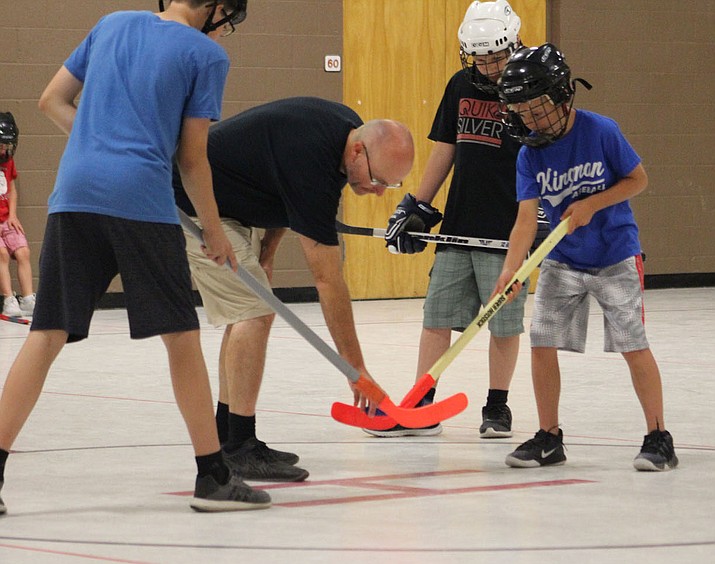 Originally Published: June 24, 2018 6 a.m.
KINGMAN – Hockey is a different sport that many people in the desert have little knowledge about, but Lewis King has been trying to change that since he first came to Kingman.
King started a summer floor hockey program seven years ago to introduce children to a new sport and a new experience.

"I love it because I get to bring something new to them," King said. "They all have had the opportunity for baseball, soccer and basketball, but it feels really neat that I get to be the one to offer the only opportunity for hockey."
Since starting the program, King has seen many children take an interest in his favorite sport with the number of players at maximum capacity each year.
King is from Modesto, California, and roller hockey was his passion, but once he moved to Kingman he missed it. There was no hockey in Kingman, and he saw the chance to introduce his passion to a new audience.
"I really missed it a lot," King said. "I missed being around it. I left California playing it and being immersed in it, but there was no hockey here and I saw my opportunity."
King teaches the children basic hockey fundamentals including proper puck handling, passing, shooting and how to play offense and defense properly.
They also scrimmage each other and put what they have learned into game situations.
King has 20 children playing floor hockey through a program with the City of Kingman Parks and Recreation. The age group is 8 to 13-years-old and requires a minimum of 16 players boys and girls.
The players enjoy hockey and they come every day ready to learn something new.
They respect the game and the way it is taught and that is something King takes a lot of pride in.
"They love it," King said. "I really enjoy how they buy into my expectations of good behavior when they are here."
Having the respect and interest of the players is key to his successful program.
King enjoys every minute of teaching and wants the program to grow. He wants others to take part in starting hockey programs so they can grow city wide like soccer and baseball.
"This is a really cool sport," King said "I hope other people will begin to see the value of a program like this. I would really like if this could become like the city leagues."