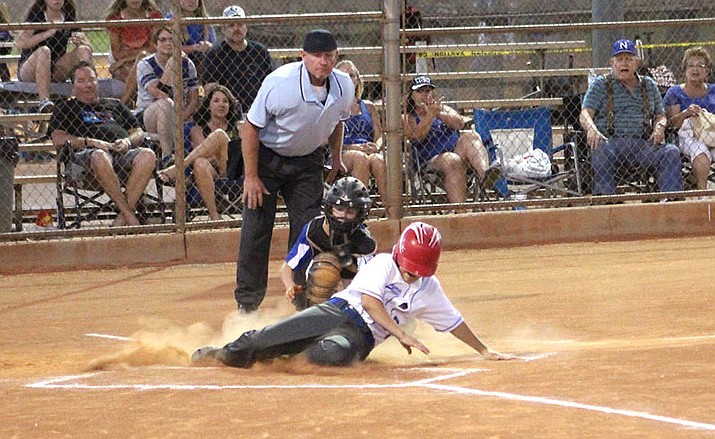 Originally Published: June 24, 2018 3:42 p.m.
KINGMAN – The Kingman South 10-12 All Stars found themselves facing a 12-3 deficit Saturday night in the second round of the District 9 Tournament. Most teams would see that as too much to overcome, but Kingman put up an incredible rally before falling 12-11 to Needles at Southside Park.
"We battled," said Kingman manager Shane Duraggo. "We showed heart there at the end. I'm proud of them. Albert (Lopez) threw a great game. We had a couple mental mistakes and the fifth inning we lost it a little, but they had heart and they battled. I knew they had it in them and I know they can hit the ball like that."
Brandon Klenke started the rally in the top of the sixth with a walk that forced Needles to make a pitching change. Needles then recorded the second out of the inning, but Kingman refused to quit.
Anthony Mulverhill came up to the plate and hit a single. With two runners on base, Norbert stepped up and hit a hard shot into the outfield that scored two runs. Needles committed an error and Norbert dashed home to score another run.
Kingman kept battling to inch within one run, 12-11, and force Needles to make another pitching change.
Kingman took advantage by putting two runners on base, but Needles tallied a strike out to seal the win.
"We hit well, but Needles made plays," Duraggo said. "We had some fly balls to the outfield and they caught them. They made the plays they had to."

A tough loss for Kingman, but one that showed even with adversity the team can still find a way to battle back.
Lopez pitched five innings with five strikeouts and hit a single in the fifth inning to help Kingman's rally effort.
"I think I did well, but I could have done better," Albert said. "I felt good. I struggled in the beginning, but started doing better at the end. I have to calm down, take my time and throw strikes. We battled as a team in the end though, so I'm happy about that too."
Kingman not only battled late in the game, but started off hot by scoring three runs in the first inning. Riley Stinson gave Kingman a 2-0 lead, followed by Josh White's triple to score Stinson and increase the advantage to 3-0.
Needles refused to go away and scored four runs in the bottom half of the first, and two more runs in the third to take a 6-3 lead.
Meanwhile, Kingman's hitting woes continued into the fourth inning when Needles called upon their relief pitcher.
He started shaky by allowing three straight walks before striking out the last two batters – forcing Kingman to leave the bases loaded and still trailing by three runs.
"Their second pitcher came out and threw hard," Duraggo said. "We had a hard time hitting it, but we have to make adjustments for the harder pitchers."
Needles' pitcher continued to dominate with three straight strikeouts.
That success carried over into the bottom of the fifth inning as Needles scored six runs for a 12-3 lead.
Kingman plays Blythe at 5:30 p.m. today and will try to stay alive in its first game of the elimination bracket.
"Carry that momentum into the next game," Duraggo said. "Come back Monday and be ready to go."