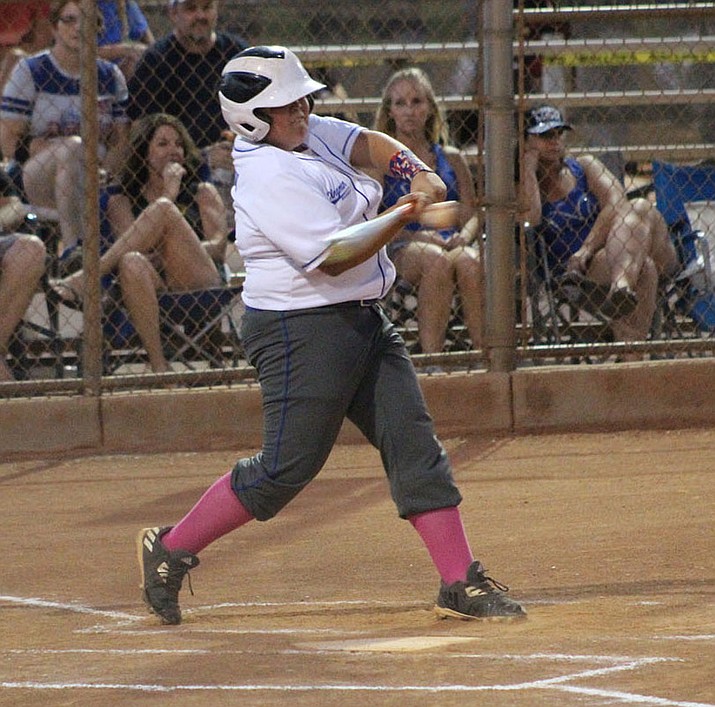 Originally Published: June 26, 2018 4:27 p.m.
KINGMAN – Kingman South had a chance Monday night against Blythe, but the Californians' defense caught everything and Kingman was eliminated in a tough 16-8 loss.
Kingman came into the first inning swinging, but Blythe stopped everything hit to them. South hit a ground out and a fly out to start the game but finished the top of the inning scoreless.
Blythe came back with three runs to end the bottom half of the inning for a 3-0 lead.
Riley Stinson started the second inning off with a walk to fuel Kingman's run. Kingman's first five batters scored including back-to-back two-RBI doubles from Tyler Davidson and Traven Jacques. Kingman finished the top half of the inning with their first lead, 5-3.
Blythe continued its hot hitting in the bottom half of the inning, getting six hits and scoring five runs. Kingman saw its lead disappear, but kept fighting in the third.
Blythe changed pitchers and Kingman tried adjusting, but with two outs and two runners on base they hit into a flyout to end the top of the third down, 8-5. Blythe scored one run in the bottom of the third to increase the lead, 9-5.
"We hit the ball," said Shane Duragoo, Kingman manager. "They made the plays. We hit the ball, but it was right at someone. We did what we were supposed to do and hit it, and they did what they were supposed to do and catch it. Sometimes it doesn't go your way."
The momentum looked to be changing in the fourth as Kingman scored three runs to keep the game close, but Blythe took the momentum back and extended its lead, 15-8.
Kingman hit into three quick outs in the fifth inning and Blythe added another run of its own to increase the lead, 16-8.
Kingman tried to rally in the sixth, but Blythe struck out the final batter and went on to win. Kingman struck out five times in the game.

"It was a good game," Duraggo said. "I hope they learned a little bit more from this experience and take that into juniors, middle school, and high school.
Kingman has nine 12-year-olds who will go onto juniors next year.
Duraggo is proud of the fight his players showed through the whole tournament.
"Keep your heads up," Duraggo said. "Nothing to be ashamed of. We wish we could go a little farther obviously, but it didn't happen so we have to keep our heads high and come back next year."