Photo by Beau Bearden.
Originally Published: March 1, 2018 5:50 a.m.
KINGMAN – Don't look now, but the Lee Williams High School girls tennis team is off to a hot start. With a 9-0 sweep of rival Kingman High Wednesday at KHS, the Lady Vols picked up their third straight win of the season.
Photo Gallery
Tennis: Lee Williams at Kingman - Feb. 28, 2018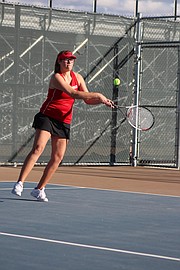 The Kingman High School girls and boys tennis teams hosted Lee Williams Wednesday afternoon. The Lady Vols won 9-0, while the Vols picked up an 8-1 victory. Photos by Beau Bearden.
"Coming out 3-0 is exciting," said Lee Williams head coach Haylee Tetrault. "We didn't start that well last year. I definitely have high hopes for this year."
Experience is on the side of the Lady Vols as only one of the top six wasn't on the team last year. The Lady Bulldogs, on the other hand, are not as experienced. Despite that fact, first-year head coach Greg Chastain was pleased with the team's heart.
"We were really competitive," Chastain said. "Looking at our lineup, four of the girls are first-year players. For them to come out and compete to see how it is at this level, I thought it was great."
Kingman's No. 1 singles player Denise Wiley lived up to her coach's praise as she battled with Lee Williams' Faith Nielsen. While the match went in favor of Nielsen by scores of 6-3, 6-0, Wiley was proud of how far she's come in her second year on the team.
"I got some matches on her and I could hold my own," Wiley said. "I felt really good that I've improved so much from last year."
Nielsen didn't think she did her best, but tried hard and was glad it worked out.
In other action, Lee Williams' Paige Cody defeated Kingman's Michelle Thomas in No. 2 singles (6-1, 6-3), while Gaby Villar picked up a 6-2, 6-0 victory over Kingman's Cassidy Abramson in No. 3 singles.
"The wins definitely boost everyone's confidence," Villar said. "We all have a lot of fun. It's exciting."
Rounding out singles play were Lee Williams' Arden Schickner with a win over Kingman's Alyssa Cedillo, followed by Lee Williams' Kaylee Hemiller with a victory over Kingman's Alyssa Sota and Lee William's Melissa Thornton defeating Kingman's Serenity Sawyer.
"We played really well," Tetrault said. "We came away with all wins today – so nothing to be upset about there."
The Lady Vols (3-0) welcome Mingus (0-1) to town Monday at 3:30 p.m., while the Lady Bulldogs (0-1) face Anthem Prep (2-1) at 3:30 p.m. Friday.
More like this story