Originally Published: March 2, 2018 5:57 a.m.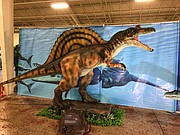 KINGMAN – Go back in time millions of years to when dinosaurs roamed the Earth and take the family on a Jurassic Tour, a family-friendly event with plenty of dinosaur-related activities for the kids. Dinosaurs will roam around Saturday, March 10 from 10 a.m. – 9 p.m. and Sunday, March 11 from 10 a.m. – 7 p.m. at Mohave County Fairgrounds, 2600 Fairgrounds Blvd.
Jurassic Tour lets attendees experience what times were like during the Jurassic, Triassic and Cretaceous periods.
Exhibits include more than 40 life-size animatronic dinosaurs, with some the children can even ride. The exhibits will have learning opportunities so attendees can expand their dinosaur knowledge.
"Children can look at these creatures, learn about them and even ride a few," Jurassic Tour said on its website.
Tickets are now on sale online at jurassictour.com or at the door the day of the event. Adult general admission tickets are $23, children ages 2 – 12 are $28, and children under the age of 2 have free admission.
A children's admission ticket includes a tour of the Dino exhibit, plus unlimited access to the Fossil Dig area, bounce castles, Dino Theatre, Dino Band and basketball. There will be other activities at additional costs.
Tickets are valid for all-day access, so attendees can go in and out of the event. Discounts are available for military and senior citizens at $3 per ticket that is only valid at the door.
On the Jurassic Tour Facebook page, it is giving away 60 free general adult tickets to those who like their page, share the post and leave a comment. Winners will be announced Friday, March 9 after 6 p.m.
For more information on the event, visit www.jurassictour.com.