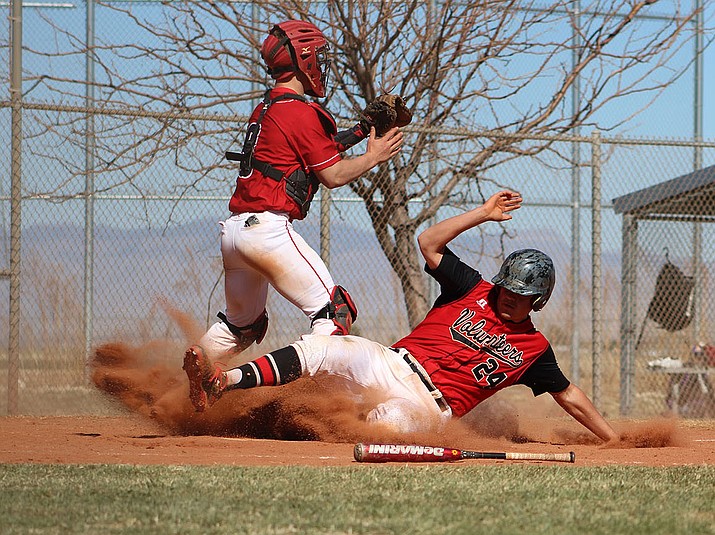 Photo by Beau Bearden.
Originally Published: March 3, 2018 6:01 p.m.
KINGMAN – It was quite a weekend of ups and downs for the Lee Williams High School baseball team at the Big Red Construction Invite. From the excitement of a walk-off win over River Valley to the anguish of a loss to Lake Havasu in the championship, the Vols took it all in stride.
Photo Gallery
Baseball: Big Red Construction Invite - March 3, 2018
The Lee Williams High School baseball team defeated Gila Ridge Saturday morning to advance to the title game of the Big Red Construction Invite. The Vols came up short in the championship, losing 5-2 to Lake Havasu. Photos by Beau Bearden.
"Like I told them, 'We never want to get used to losing, but it's definitely something we can learn from,'" said Lee Williams head coach Patrick O'Boyle. "So we're going to take what we learned and get back to work Monday."
The Vols started off bracket play Friday with an exciting come-from-behind 3-2 victory over the Dust Devils. Lee Williams then advanced to the semifinals against a Gila Ridge squad that had yet to lose in pool play action.
That didn't seem to bother the Vols as they easily disposed of the Hawks 8-0 Saturday morning and carried over the offense into the first inning against Lake Havasu.
Lee Williams' two-run lead didn't hold up as the Knights responded with a run in the second and four runs in the third to clinch the tourney title with a 5-2 victory.
"We did a nice job coming out ready to go," O'Boyle said. "But (Lake Havasu's) pitcher made an adjustment. We were still hitting the ball, but they made plays. Credit to them. They did what they were supposed to do. We were putting the ball in play and doing our job. They just made plays. It's the way baseball goes."
In other tournament action, Kingman and Kingman Academy were eliminated in the quarterfinals. The host Bulldogs, however, made it interesting late in their contest against Lake Havasu.
"I told them to have fun, play loose and don't be afraid," said Kingman head coach Chad Baitinger. "They took that to heart and they actually had fun. It shows that they played better."
While the Bulldogs dropped a 7-5 loss to the Knights, the onslaught of runs in the final inning proved to make up for the disappointing start to the tourney.
"I wasn't pleased early on, but I am with the outcome," Baitinger said. "That's something to build on."
The Tigers, on the other hand, had their bats go silent in an 8-0 setback to Mohave Friday. The Academy did tally a 4-2 win over River Valley in pool play earlier in the day and finished with a 2-2 overall record in tourney action.
"It was a good weekend," said Tigers head coach Bill McCord. "We played some good games and got some good experience. Now back to the season Monday."
The Tigers (1-1) welcome Bagdad (1-0) to town at 6 p.m. Monday, while Lee Williams travels to Coconino (0-2) at 6 p.m. Tuesday. The Bulldogs, meanwhile, have rescheduled Tuesday's contest against the Academy to April 7.
Big Red Construction Invite Results:
Championship Game
– Lake Havasu 5, Lee Williams 2
3rd Place Game
– Gila Ridge 4, Mohave 0
Semifinals
– Lee Williams 8, Gila Ridge 0
– Lake Havasu 6, Mohave 1
Quarterfinals
– Gila Ridge 12, Page 1
– Lee Williams 3, River Valley 2
– Mohave 8, Kingman Academy 0
– Lake Havasu 7, Kingman 5
More like this story