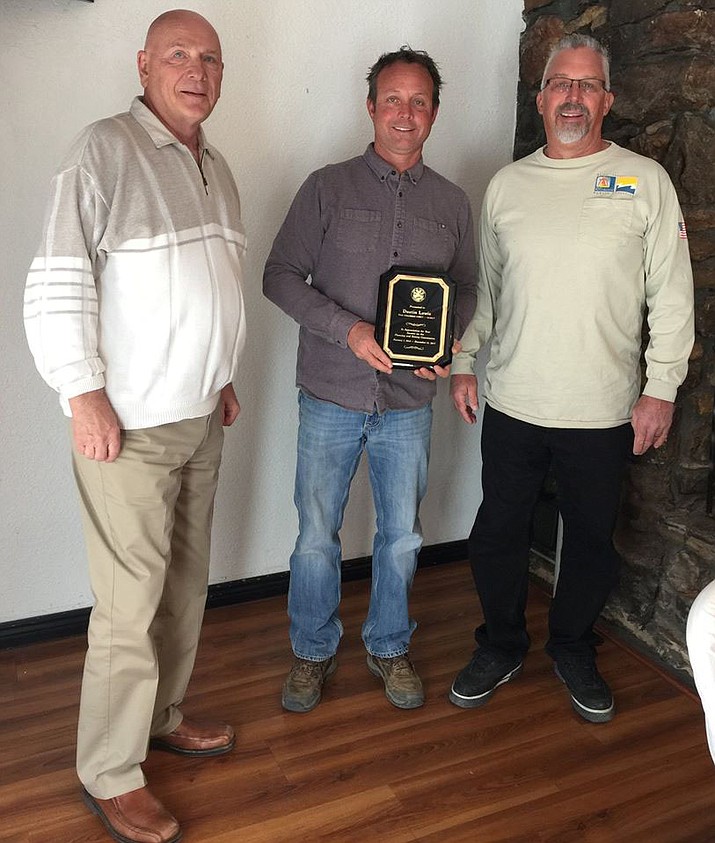 Originally Published: March 5, 2018 5:59 a.m.
KINGMAN – Dustin Lewis, longtime commissioner and eventual vice-chair of the planning and zoning commission, was recognized for his service to the community at the commission's annual report luncheon Feb. 26.
"Dustin is very engaged in the building community. His talent has certainly been an asset to the City of Kingman," said Mayor Monica Gates. "We very much appreciate his service and contributions to the planning and zoning commission."
Lewis served on the commission from 2012-2017 and was vice chairman in his last year. He left the commission in December. He wasn't seeking recognition, and while appreciative, found the joy of serving his community to be enough.
"My greatest recognition was just the joy of serving on the commission for that time and I look forward to going back and being able to do it again someday," Lewis said. "I just really enjoyed that commission." Three members left the commission in December, including former-Chairman Allen Mossberg and former-Commissioner Thomas Schulte. Rich Ruggles, planning services manager, thanked all three for their service.
"Dustin was always very conscientious about making his decisions and asking the right questions," Ruggles said. "We really appreciate his service over the years."
Lewis, part of five generations in Kingman, tries to stay involved with everything going on in the area.
"I think it's important for everyone to get involved and make sure the City grows in the right direction," he said.

Lewis said there were many items he was proud to have contributed to during his time on the commission. They included work done updating the general plan, allowing cargo containers in commercial zoning areas, and the hanging of active-military flags on street lights throughout town.
"There were so many though, that was the enjoyment about the planning and zoning commission," he said. "You see so many things come before you."
His name may ring familiar to some as the former operator of High Desert 66 BMX, a 501 (c) (3) nonprofit organization.
"It was something else that was needed for the youth and the adults in this area that was lacking," Lewis said. "And it shows that it's still booming in this town that it was needed and is an asset to the community to this day."
He added that it was a pleasure serving with commissioners with similar mindsets geared toward bettering their community.
"There're always so many commissions that are looking for residents from the City of Kingman to apply," he said in recommending how to get involved in the community. "They're all enjoyable positions of every kind."
More like this story