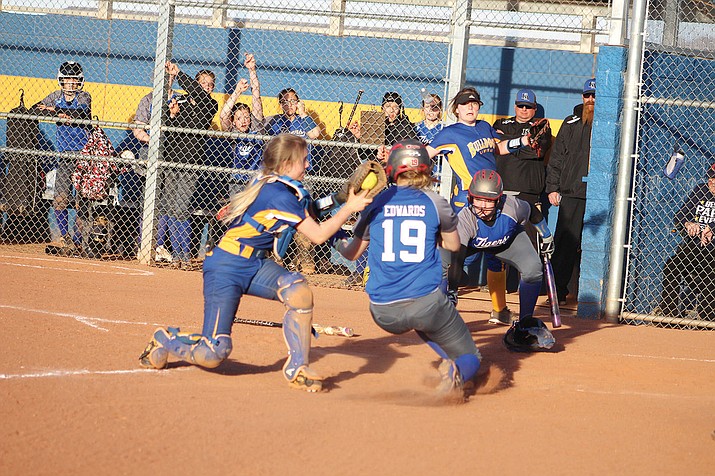 Photo by Beau Bearden.
Originally Published: March 7, 2018 6:38 a.m.
KINGMAN – The Kingman High School softball team only needed one more out Tuesday to put an end to a five-game losing streak to rival Kingman Academy.
The Lady Bulldogs could have finished it with a routine groundout or strikeout, but they made it exciting as center fielder Kayli Toms rocketed a throw toward home and catcher Madi Bell grabbed it out of the air and applied the tag to clinch a 7-6 victory over the Lady Tigers at KHS.
Photo Gallery
Softball: Kingman Academy at Kingman - March 6, 2018
The Kingman High School softball team ended a five-game losing streak to rival Kingman Academy Tuesday with a 7-6 win at KHS. It was the Lady Bulldogs' first victory over the Lady Tigers since April 15, 2015. Photos by Beau Bearden.
"Honestly, I did not think I had the ball, but Kayli had just the right angle of the ball that I was able to come down and make that tag," Bell said. "She made the most perfect throw that I could ask for."
Toms was humble when asked about the play, giving all the credit to a voice in her head telling her what to do.
"I always keep in mind what coach tells me," Toms said. "Sometimes you get nervous and shaky during the game, but with coach in the back of my mind I knew to just launch it and hope for the best."
Kingman definitely came out with the best possible outcome – picking up its first victory over the Academy since April 15, 2015.
"This is a huge win," said Lady Bulldogs head coach Craig Lee. "The Academy has put some butt whooping's on us the last couple of years. So I'm very proud of the girls. That is a top-notch program from the head coach all the way down to all the assistant coaches. They have terrific pitching and catching – they're solid.
"To take a playoff team from last year like the Academy and be able to win gives our kids the confidence and understanding that we can accomplish our goal this year and we can make the playoffs."
However, the final play might never have happened if the Academy was in a different part of the lineup. Jessica Plew was due up next for the Lady Tigers and head coach Tim Pena decided it was best to send Maryssa Edwards home.
"Jessica is coming off of wrist surgery, so it's really tough for her to bat," Pena said. "She had a couple of hacks early in the game when it started bothering her. So we had her bunt. … I could send Maryssa home and maybe get the run or I wait for Jessica to bunt and see what happens from there – roll the dice. I gambled and it didn't work out."
While the decision didn't pan out for the Academy, Pena felt there were more plays that ultimately decided the contest. Both teams committed a number of errors throughout the game and that put the Lady Tigers in a difficult spot.
"We had too many mistakes in the infield and we had too many walks," Pena said. "That's basically what hurt us. You just can't have people moving and getting free bases without having them earn it. But we'll get better. We'll keep working hard and see what happens."
It was a back-and-forth battle early on as both teams traded runs before Kingman took a 4-1 advantage after four innings. Academy quickly responded with four runs in the fifth and one more in the sixth to take a 6-4 lead.
While it appeared the momentum had swung in favor of the Lady Tigers, a clutch RBI triple by Kingman's Lilianna Valdivia scored Toms and ignited the offense. Kingman would add two more runs in the inning and that was all it needed to get the victory.
"It's amazing – it means so much to the team," Toms said of the win. "We're so proud of ourselves and coach is proud of us. We just work together so well and it's times like this when it really shows."
The Lady Bulldogs (2-2) welcome Odyssey Institute to town Thursday for a 3:45 p.m. contest, while Academy (2-2) is also in action Thursday at Sedona Red Rock.
More like this story