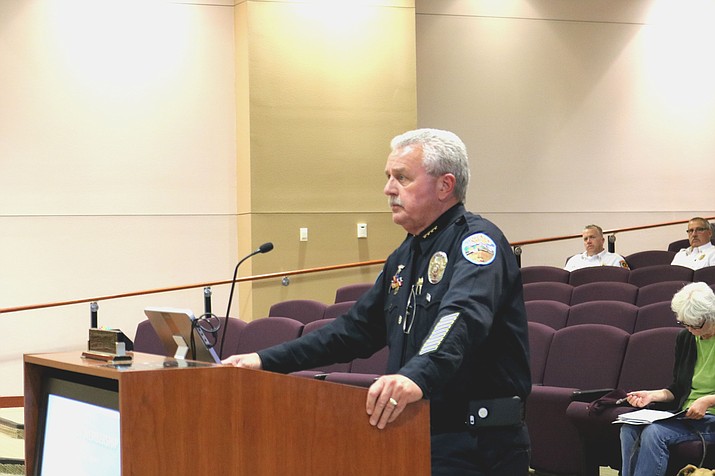 Originally Published: March 8, 2018 5:59 a.m.
KINGMAN – The Kingman Police Department is doing all it can to be at the cutting edge of law enforcement practices. Becoming one of the first departments in the state accredited by the new Arizona Law Enforcement Accreditation Program is another way to do so.
"There is a national accreditation program, but quite frankly, it's cost prohibitive for a community our size," said KPD Chief Robert DeVries. "As a matter of fact, there's only 11 law enforcement agencies in the state that are nationally accredited because of that cost."
For a department like KPD, one individual would have to be assigned and tasked solely to accreditation. DeVries said the department doesn't have the flexibility to do that. The solution, as discussed by agencies throughout Arizona, was to pursue a statewide accreditation program.
An effort to develop the program began in January 2017 when the Arizona Chiefs of Police organized a working group to achieve that goal. DeVries was selected to be part of the group.
"It was an excellent group to work with. We had some very intense dialogue over the past year," he said.
Arizona became the 29th state to organize a statewide accreditation program in May. The goal of the program is to "provide best practice policies, procedures and operational guidelines for all law enforcement agencies in the state of Arizona," DeVries said.
National accreditation entails about 450-470 adopted standards of practice, and state programs typically have about 150. Arizona settled on 175. The standards include policies from Lexipol, Edwards and Ginn, and the International Association of Chiefs of Police.
After Jackie Walker, human resources director, gave a presentation to the Arizona Risk Pool in November 2017, the board decided to recognize and fund the program. That effort has enabled the state's goal of accreditation at a cost-effective rate for communities, DeVries said.
"I'd be remiss if I didn't recognize and appreciate and give thanks to Jackie Walker," he added. "She was the one who partnered us up with the Arizona Risk Pool ..."
KPD already has specific goals it's working toward, one of which is to achieve accreditation by January 2020.
"That's a pretty aggressive goal to achieve, but I firmly believe we're going to be able to do that," DeVries said.
KPD also plans on rewriting its policies and procedures so as to match the formatting to the new standards, as well as securing participation from supervisors.
"Every one of them are anxious and willing, and want to be a part of this process because they too see the value in it," DeVries said.
Lastly, the department will strive to have two of its staff trained as accreditation assessors. They would go to agencies that are seeking accreditation and perform site inspections and assess policies, facilities and training. DeVries said having staff trained as assessors would be a "tremendous tool" for those looking to further their careers with KPD.
The first applications will go forward for possible accreditation in July 2018. Because KPD participated in the aforementioned working group, it has the right to jump in on the first wave of applicants. DeVries said that group will most likely be limited to 20-25 departments.
"I want to see us in that initial wave of the awarded and recognized as a truly accredited agency," he added.
Mayor Monica Gates said that it's been "incredible" how much has been accomplished in such a short period of time. She also asked what the direct benefit would be to citizens in having an accredited department.
"From that aspect, you're looking at having a law enforcement agency in their community that has adopted best practices not just for the state, but nationally," DeVries said. "So that they (citizens) know officers that they are encountering on the street are trained to the best of their ability."
More like this story