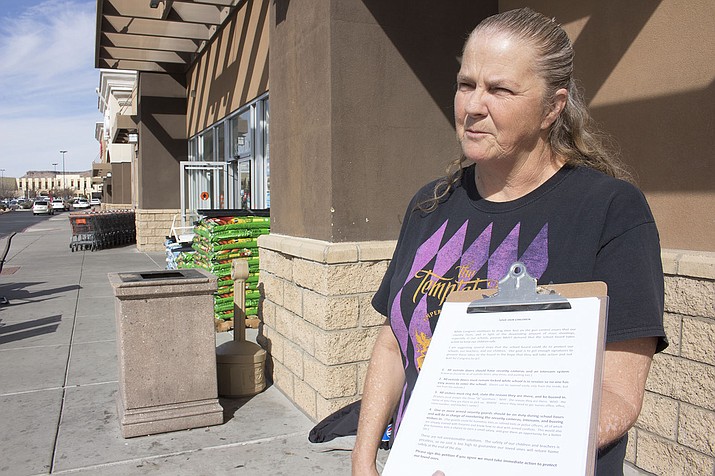 Photo by Vanessa Espinoza.

Originally Published: March 9, 2018 5:56 a.m.
KINGMAN – School safety has become a big concern since the Florida school shooting. A Kingman mother and grandmother has taken up the responsibility to improve school security by starting her own petition.
Penny Gabriel came up with the idea after what happened in Florida, reading the article in The Daily Miner about what the school districts had to say about their school security, and watching her grandson demonstrate what he and his classmates do during active shooter drills.
"The schools here you can just walk in," Gabriel said. "It's crazy."
Gabriel knows of one school in Kingman, Manzanita Elementary School, where you have to be "buzzed in" to get inside the school.
Gabriel has received 100 signatures so far, but hopes to receive a total of 2,000 before she takes it to the school board. Gabriel is out in front of Big Lots and other nearby stores asking the public for signatures and has received positive feedback.
"I'll be out there every day getting signatures," Gabriel said. If she doesn't receive enough signatures, then she will start going door-to-door around town.
After accumulating the 2,000 signatures, Gabriel will take the petition to any place where children go to learn. She plans to take the signed petition to the Kingman Unified School District school board and the Kingman Academy of Learning board of directors.
Susan Chan, executive director for KAOL, said that she hopes many citizens do get out and sign the petition.
"We are obviously concerned about school safety and have taken the steps to increase awareness in the school," Chan said.
Chan is also glad to see the community realizes schools need to increase security and hopes for the community to help get whatever the schools need to make that happen.
The Miner also reached out to Roger Jacks, superintendent of KUSD, for comment, but he did not respond for this story.
More like this story