Originally Published: March 9, 2018 5:52 a.m.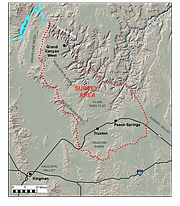 PEACH SPRINGS – A helicopter contracted by the U.S. Geological Survey will be flying low over parts of the Hualapai Indian Reservation, including the towns of Peach Springs and Truxton, collecting and recording geophysical measurements for scientific research.
Starting Saturday, residents in those areas can expect to see a low-flying helicopter towing a large hoop hanging from a cable for about two weeks, said Heidi Koontz, spokeswoman for USGS.
The aerial surveys will focus on the Grand Canyon West Skywalk and resort area. It entails flying a relatively low grid pattern, but still hundreds of feet above the ground.
A sensor that resembles a large hula-hoop will be towed by the helicopter to measure tiny electromagnetic signals used to map properties of the earth's subsurface, Koontz explained.
Data collected from the survey will be analyzed by USGS scientists and used to map geologic structures and aquifer properties.
It's a component of a USGS study to better understand groundwater resources on the Hualapai Indian Reservation and Truxton Basin.
"The shape and depth of aquifers controls where groundwater is found and how it moves," Lyndsay Ball, USGS research geophysicist in Denver, said Thursday in an email to the Daily Miner.
"The airborne geophysical survey will image the subsurface geology, and these results will be used to create 3D maps of the aquifers that will help us better understand groundwater occurrence and movement, which in turn will help water resource managers to make informed decisions."
The work is being supported by the U.S. Bureau of Reclamation with cooperation of the Hualapai Tribe Department of Natural Resources.
Results of the airborne geophysical survey will be publicly available when the study is completed, Ball said.
USGS is contracting with a specialty airborne geophysical company to conduct the survey. Experienced pilots from Sinton Helicopters are specially trained for low-level flying for geophysical surveys.
The company works with the FAA to make sure flights are in accordance with federal law.
More like this story