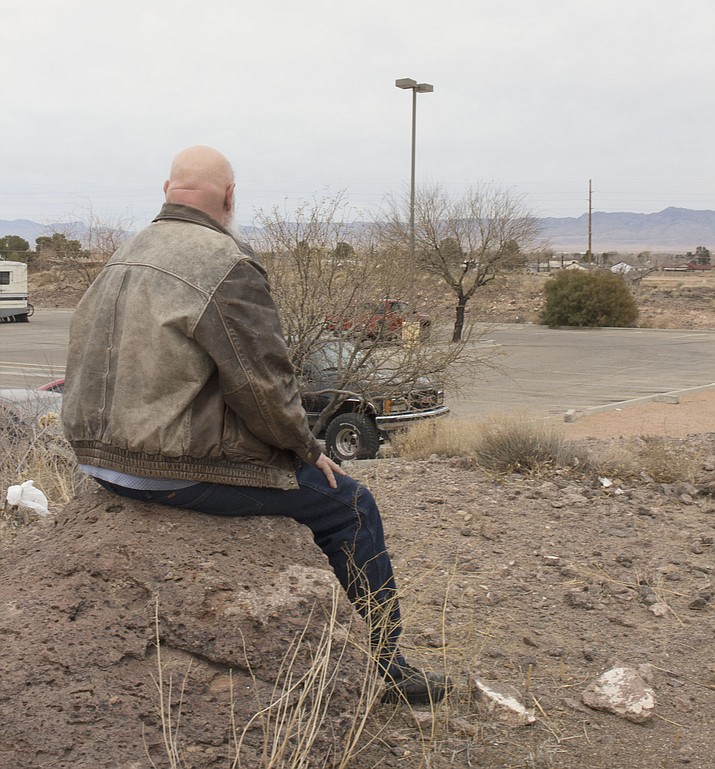 Originally Published: March 11, 2018 6 a.m.
At Golden Corral restaurant, Jay, who didn't want his last name published, scouts out a table near an electrical outlet where he can charge his laptop, his most prized material possession.
He's homeless, living out of his minivan, parking wherever he won't be rousted, looking for odd jobs to get gas money and hoping to somehow rise from the demeaning rut that he fell into a few years ago.
Jay is in his mid-50s, bald with a bushy gray beard and crystal blue eyes, speaks intelligently and swears on the Bible he's not a drunk or druggie.
But he struggles to make any headway in returning to the normal life he had before the economy tanked and he lost his job as a computer technician in Vermont.
From that point, it's been a spiraling chain of unfortunate events that shoved Jay onto the fringes of society, one of the many faces in Mohave County's increasing homeless population.
A 2018 survey by Mohave County Community Services counted 281 homeless people, compared with 235 in last year's survey.
Jay trekked across the country in search of work, from Vermont to Oregon to California and now Arizona, coming to Kingman about three months ago from Flagstaff.
He's befuddled by his plight.
"I am a decent human being who has had some really bad things happen to me," Jay said between trips to the buffet to refill his plate. "Having almost everything of value stolen from me, being scammed by people who were supposed to be old friends from high school who turned out to be really bad people after all these years."
None of the above
The homeless can be grouped into three broad categories: those with mental health issues; alcoholics and addicts; and your run-of-the mill bums.
Jay says he's none of the above.
"People like me want to work, want to have a life, but there you are," he said. "I have a cleaner record than many policeman, and can pass any background check 100 percent and have done so a number of times."
His "dream" is to buy property in Golden Valley – a cheap piece of desert land – to build a new life that can be sustained on even a minimum-wage job. He said he knows a lot about aquaponics and would build a small aquaponics system on the land.
"Even though part of the plan was to start off in Kingman, I have been stuck in Kingman without being able to get real work," Jay said. "I have not been able to get enough money together to afford going back and forth to a full-time job for a couple weeks until I get a first paycheck."
He's getting nowhere with temporary employment agencies and has plans to apply at a local home improvement store.
"I know that if I can get by and get some decent full-time job, I can make things happen for myself and it would not even be hard," he said.
"But things are not working out here in Kingman. I have one last slim chance to try something else, to get to either Bullhead City or Lake Havasu City and try there."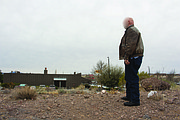 Shelter life
He stayed at Cornerstone Mission for the homeless in Kingman, but the rules were so strict, he couldn't take a walk without signing out. He was treated in a hostile manner by a "sketchy social worker" who kicked him out even though he didn't break any rules, Jay said.
They wanted him to sweep the floor, but Jay said there were only four brooms for six or eight residents, so he left to look for day work.
Lisa Fitzgerald, executive director of Cornerstone, said she couldn't talk about what happened due to the mission's confidentiality policy.
"But please know there are two sides to every story, and when folks do not abide by the rules, we have no choice," she said. "I'm in a precarious position. I can't say anything, but we generally don't put people out for no reason."
While not in direct reference to Jay, Fitzgerald said if people don't want to lift themselves from a life of homelessness, there's nothing Cornerstone can do for them.
"To be honest, I don't want to be in a homeless shelter at all," Jay said. "I would rather sleep in my car until I have a job and can afford a better alternative."
Meanwhile, he lives with the stigma of being homeless, subject to the bigoted views of people who might substitute the words "black" or "Jew" in the same sentence when they talk about him.
"Some people go through life easy for whatever reason or no particular reason," Jay said. "Some people do their best for others and get crapped on for it. Sometimes bad things happen to people who are not bad.
"All I need is a decent chance, a decent job, not some situation where I have to be desperate and put up with abuse just because. I am a decent intelligent human being with a tiny American dream."
Editor's note: This story has been corrected to reflect that Jay plans on applying at a local home improvement store and has not yet done so.
More like this story