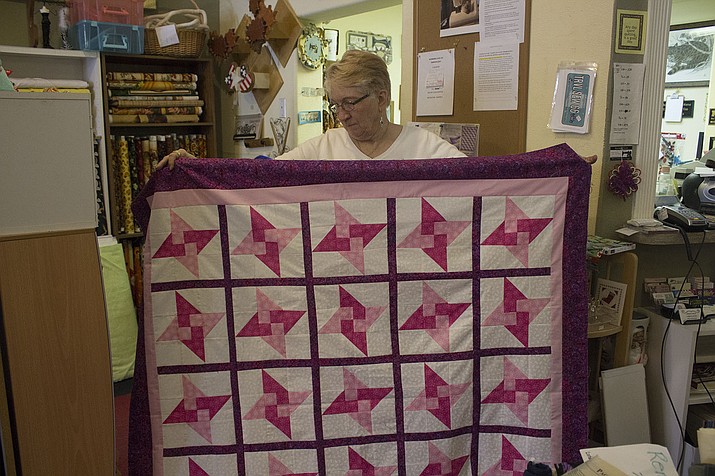 Originally Published: March 12, 2018 5:57 a.m.
KINGMAN – Attention quilters and non-quilters, Connie's Quilters Hide-A-Way is having their "Quilt Pink for Life" fundraiser, which helps collect money for breast cancer patients at KRMC.
Connie Kettelhut, owner of Connie's Quilters Hide-A-Way, thought of the fundraiser idea when she and her friend Sharon Taylor read a novel about quilting for hope.
The kits are selling for $5 and are ready for sewing. Kits include fabric and the sewing pattern. For those who don't know how to sew, kits are still available for purchase and store members can take care of the sewing process.
Last time the fundraiser was held, the store raised $1,855 and, this year its goal is to raise $2,000. All proceeds are donated to provide mammograms and transportation for those who cannot afford it.
"It stays in the community," Kettelhut said. "And we invite the community."
Once the store has enough blocks turned in, store members will complete the quilts. Last year there was a king size quilt available for raffling. Quilts that are raffled are usually a twin or throw size. Raffle tickets vary in prices from $1 or 6 for $5.
Kits can be purchased from 10 a.m. to 5 p.m. Monday – Friday, or 10 a.m. to 4 p.m. on Saturdays. You can purchase blocks until the end of August. There will be at least 10 quilts for raffle and the raffling will take place at 2 p.m. Oct. 16 at 310 E. Beale Street.
For anyone that would like to donate batting or fabric that's in good condition or may need more information, contact Connie at 928-753-9096.
More like this story