Originally Published: May 1, 2018 6 a.m.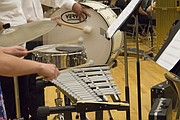 Music has been around for centuries. It takes us back to a moment in time, maybe our first school dance, first love, a tragedy or even a favorite movie. But music just isn't an art; it's science, math, history and culture.
Kingman Unified School District musical educators have not only taught their students their do-re-mis, but they have shown them how to work together as a team and how everyday subjects are incorporated into the art of music.
Susan Collins, music specialist at Manzanita Elementary School, blends two methods of teaching to help her students understand the different parts of music. She uses Kodaly training, which focuses on the cultural aspects of music, singing, and folk music, and the Orff Approach, which focuses on muscle memory and movement.
"When you're dealing with younger children you have to get in there and hook them faster," she said.
Collins teaches her students different singing games that help them learn how to keep a steady beat, how to cross their midline and how to recognize patterns.
"All of that ties into their ability to read fluently and comprehend what they're reading," she said.
Julie Gragg, Kingman Middle School band director and music coordinator for KUSD, said her band students are a family and come together.
"I hope it provides a safe place, where they can express themselves," she said.
Gragg's job is to make sure music festivals run smoothly, and she advocates for music teachers.

"Anything from supporting those new music teachers, helping find new teachers and following up to make sure they are giving to our program," Gragg said about her duties.
Sean Hernandez, an eighth-grader at KMS, is the proud owner of many instruments like the flute, oboe, and violin – just to name a few. His thing he most looks forward to about getting into high school band is learning more difficult music pieces.
"It's the experience," Hernandez said. "It's nice to meet new people and see what other people have done and how they do it."
After completing high school he plans to attend Northern Arizona University and continue his music endeavors.
Alexis Lewis, another eighth-grader at KMS, has learned that playing an instrument puts her in a better mood.
"Whenever I'm in a bad mood or if I don't feel good, I just play my instrument," Lewis said.
In the sixth grade when everyone had to give back their instruments, Lewis was heartbroken. She saved money and bought her own clarinet.
"I went home and wouldn't leave it alone," she said. "I had to play it."
Lewis also looks forward to high school band and playing more difficult music and plans to continue music in college.
Michael Schreiber, band director at Kingman High School, focuses a lot on teamwork and pride.
"They will remember being part of a team and taking sacrifices for the good of the team," he said.
From day one he stresses to his students that in order to be a productive member of society, people need to be able to work as a team.
There is music in math and physics, and Schreiber talks to his students about the deeper level of how these subjects are in music.
"Rhythm is mathematically perfect," he said.
He talks to his students about how the different sound waves bounce off each other in situation and how they have to perfect the size of the wave lengths when it comes to intonation (the accuracy of a pitch when singing or playing an instrument).
When it comes to literature and history in music, both subjects coincide and often come with an emotional connection to it, which can make students feel what was going on during the time a piece was written.
"Everything we do, there's a history lesson to why it was written," Schreiber said.
Recently the KHS band performed a song from "Lord of the Rings" at the KUSD band festival, which comes from a piece of literature.

"Music touches on all the subjects, but it's something that's unique," Schreiber said.