Originally Published: May 10, 2018 1:51 p.m.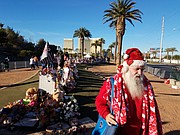 KINGMAN – Friends of James Zyla, the homeless "Santa Claus" frequently seen pushing his cart along Stockton Hill Road, have launched a GoFundMe campaign to buy him a new keyboard.
Zyla is an accomplished pianist who plays regularly at The Gardens Rehab Center and has also played occasionally at Diana's Cellar when he was still able to see his way downtown.
Mike Miller, a 20-year-Kingman resident, would see Zyla slowly walking down the street, doing his best to avoid obstacles as his vision has left him legally blind, and decided to stop and talk to him one day.
He offered him a pillow and blanket, gave him lunch money and asked if there was anything he needed.
"Sometimes we'd sit down and talk and he talked about getting a brand new keyboard," Miller said. "Why does this guy want a keyboard and not a house or car or somewhere to live? He said he'd like to 'get back on his knees (feet).' When I heard that, I was pretty excited that a homeless person has the mindset to get off the streets."
Miller thought about what he could do to help a guy who's homeless, alone and blind. He figured the keyboard might make Zyla a few bucks and "get him out of the hole."
He set up the GoFundMe account at gf.me/u/ig8g2b to buy a Dexibell Vivo S9 stage piano. It costs about $2,600, plus a case and accessories.
It's the "flagship instrument" of stage pianos and follows in the footsteps of other popular Dexibell keyboards, according to a review by Bonner's Musical Instrument Specialists. It features the piano and electric piano sound source, powerful tone wheel organ engine and is programmed with classical organ and orchestral sound samples.
Pat and Judy Barry have known Zyla for about three years, having met him during a book-signing at the former Hasting's Book Store. They've taken him on trips to music stores in Las Vegas and watched a crowd of people gather around when he played.
Anyone who's met Zyla knows he has a passion for the piano and music in general, Pat Barry said.
"James is also virtually blind, so everything he does requires so much extra effort," he said. "For the years that we have known him, he has been passionately researching every new keyboard on his iPad, which he holds about two inches from his face so he can see it."
Originally from England, Zyla claims to have played on the same stage as Jimi Hendrix, Pink Floyd, Thin Lizzy and The Animals. His band opened for The Troggs at the famous Marquee Club in London in the early 1960s. He did studio work with Malcolm Evans, road manager for the Beatles, and befriended George Harrison.
"I don't smoke or do drugs," Zyla told the Daily Miner during an interview in December 2016. "I had my last beer in 2008 and I'm going to have my next one in 2019."
Zyla said he worked as a certified systems analyst for Apple computers in the 1980s, developing early voice recognition technology. He kicked around California until coming to Kingman about four years ago.
"Some people claim that there's a woman to blame, but it's the serpent's fault," Zyla said. "I came to dig up friends I played music with, but some of those people aren't around."