Originally Published: May 10, 2018 6:37 p.m.
KINGMAN – A mobile home fire occurred on the 2900 block of East Snavely Avenue late Thursday afternoon. Northern Arizona Consolidated Fire District was on scene of the large capacity fire that scorched a nearby home.
Photo Gallery
Snavely Avenue fire - May 10, 2018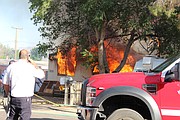 A fire broke out Thursday afternoon on the 2900 block of East Snavely Avenue. Photos by Vanessa Espinoza.
Neighbors of the residence were watering down their fences, trees, and homes to prevent the fire from spreading to their property.
Witnesses said that there were "somewhat" empty propane tanks, which caused some "boom" noises during the fire. Witnesses said no one was home at the time of the fire.
Firefighters had to get water from a block away to contain the blaze.
More details will be reported when information becomes available.