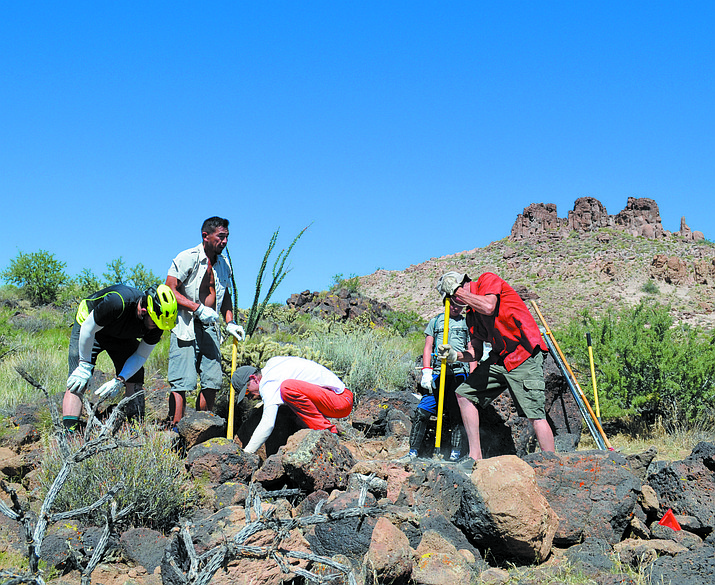 Originally Published: May 16, 2018 4:33 p.m.
KINGMAN – The beautiful scenery in and around Kingman provides opportunities for the City to attract recreational tourists who also spend their money at locations they choose to visit, which Council took to heart in its support of constructing trails in the White Cliffs area.
Ryan Ackerman, speaking on behalf of the Colorado River Area Trails Association, told Council about the benefits of increasing trails systems within the community.

There are currently more than 88 miles of trails within the Kingman area, but Ackerman explained that number is not as high as it seems. He pointed to Flagstaff and Prescott which each have anywhere from 300 to 400 miles of trail systems.
"That may sound like a lot to many people that aren't trail users, but you don't want to use that same exact trail over and over, that gets old," he said. "Some of these people, who are enthusiasts, who come from out of town, they want to stay the weekend. They want to spend their time here."
Ackerman believes bringing trails enthusiasts to Kingman could have a huge economic impact on current businesses and would even pave the way for new business opportunities. He said recreational tourism is at an all-time high and outdoors stores are popping up left and right.
He quoted a 2017 Outdoor Industry Association study that said $184 billion was spent nationally on outdoor recreational products with another $702 billion spend on outdoor recreation trips.
"That gives opportunities for new businesses to arise in our community and young entrepreneurs to bring in people from outside of our area to show them the beauty and make money," Ackerman said.
That same study found that the industry supported 1.7 million jobs and $13 billion in state and local tax revenue.
"And we need to be at the forefront of that with economic development," he said. "There's lots of future opportunities as well within our area as far as creating a quality of life for residents."
He added that providing a better quality of life for Kingman residents will also help to bring more professionals to the City. Doctors and lawyers and others in similar fields need stress relievers, which is one reason why Flagstaff and Prescott have such a healthy population of those professionals.
"And if they don't have anywhere to get away from work and relieve their stress, it's not a place they want to be," Ackerman said.
Kingman's weather also puts the City in a unique and favorable position to offer those recreational opportunities.
"It gets to the point where the weather is too harsh to really get out and enjoy those outdoor activities and sports," he said. "In Kingman, we have pretty mild high desert climate, so these things can be capitalized on throughout the year."
Gallup, New Mexico, is also a small community, but one that has capitalized on trails. Ackerman said that after building 150 miles of trail, the city now attracts 32,000 adventure tourists a year. The three biking events that city holds annually brings in some $1 million per year with an estimated economic impact of $25 million over the next 10 years.
Completing the 1.5 miles of trail at White Cliffs will cost about $55,000, and CRATA is asking the City to help by contributing $30,000.
Council was in favor of approving those funds from general fund tourism dollars for next year's budget, though no action was taken as it was a work session item.
"I think a lot of us did not consider the financial impact that trails could have on a community like ours," said Councilman David Wayt.
Councilwoman Jamie Scott Stehly agreed. She said Kingman residents wouldn't be the only ones to benefit from additional trails systems.
"If we can commit to this, I think we'll really see it pay off and we'll have another reason for tourists to come to Kingman," she said. "It's not just for locals, it's for everybody."