Originally Published: May 16, 2018 6 a.m.
Being a dog can be hard, especially when there's no warm bed to go to, a companion that can rub its belly, or a consistent source of food. Sometimes a street dog may get lucky and receive food from a kind stranger, but other times they may have to live off pigeons, or eat rocks and twigs just to keep the hunger down.
For five years a red Heeler mix named Willow had to deal with those living conditions. She had kind strangers feed her every now and then. Willow had many litters of puppies and some were rescued, but no one is sure what happened to the others. Her home was a den made out of bushes.
Mohave County Humane Animal Trapping, which specializes in skittish dogs and dogs in survival mode and was founded by Robin Wood and Jennifer Agne, was the organization that helped capture Willow and find her a safe home.
"We were first notified back in October about a stray dog living in the Walleck Ranch," Wood said.
They had originally trapped Willow in December, but the foster family "failed" and she got away. From that moment on, it became a team effort to capture her again. Sometimes it took as long as 10 hours a day watching Willow and getting to know her.
Joining Team Willow were Alana Smart and Carol, who didn't want to give her last name, who were also there to help.
Smart first learned about Willow when she saw a picture of her and recognized her from seeing her wandering around the neighborhood.
"I wandered over to the desert, and I found (Wood and Agne)," Smart said. "And they trapped me."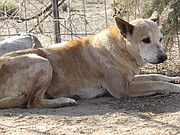 Smart would visit Willow about twice a day so she could get to know her and start gaining Willow's confidence. That's what MCHAT needed, a person to bond with her on a regular basis in order to capture Willow.
Smart then recruited her friend Carol to go with her on her daily trips to see Willow.
"The first time I saw her, I was hooked," Carol said.
Smart and Carol would both go to spend time with Willow, and on their trips they would sit there and began to form a trust.
They went every day, and it seemed like Willow was looking forward to their visit. They missed one day, and Willow formed a little bit of an attitude toward them.
"It upset her for about four or five days," Carol said.
After the two gained Willow's trust, they were able to lure her into a trap with food. Willow survived by the handouts people gave her. One family that rescued her litter of puppies would take her big meals that included turkey and potatoes.
"So many people came to know her and left food out for her," Agne said.
The health conditions Willow was suffering included her teeth being ground down to the gums from eating rocks and twigs all those years. She also had tapeworms and a urinary tract infection. After a visit to the vet, her blood work came out good, she is now spayed and has received some dental work.
Her foster home will be with Carol until she is ready for adoption. Carol has fostered other dogs for almost two years. After they are adopted it opens the door for others.
"My last foster was adopted, so it opened the door for Willow," Carol said.
For many of the dogs that are out in the wild, once they are captured they can't be treated like a normal dog because they are now a special needs dog. MCHAT says that they can't be left off a leash because any sort of noise can trigger them.
"They are a domesticated dog with a coyote brain," Wood said.
MCHAT first started when they heard about the "Kingman Walmart Dog," which had been roaming around Walmart for about five months. He then traveled to Mohave Valley and took a journey of about 280 miles, according to Wood. A year ago Thursday was the one-year anniversary that he had been saved. His name is now Gus and he is under the care of Agne.
"God brought us Gus so we can save Willow," Wood said.
MCHAT started in August of 2017 and has saved 14 dogs since then. For more information about MCHAT, call Jennifer Agne at 928-208-0148.
Related Stories