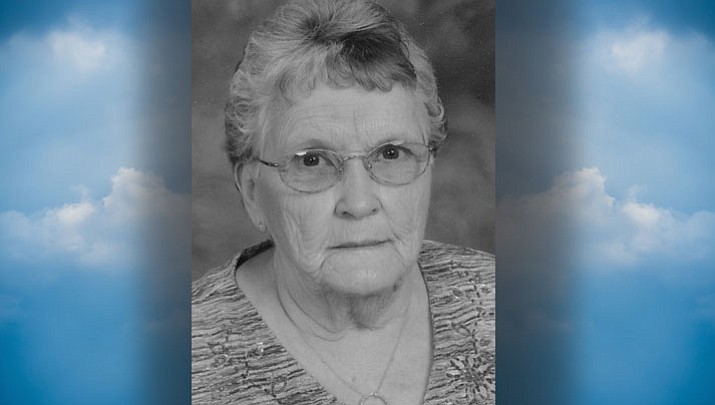 Originally Published: May 17, 2018 6 a.m.
Doris Myrtle Foster passed away May 10, 2018.
She was born May 14, 1929 in Hill City, South Dakota. She was the only child of Art and Rena Shepard.

Doris and her family moved to Lake Havasu City, Arizona in 1977 and then to Kingman in 1978. She worked at Kingman Regional Medical Center for 25 years in the finance department in accounts payable. She retired in 2006.
She spoke often of the friends she made and how much she enjoyed her time working with the staff at KRMC.
Doris is preceded in death by her parents; Art and Rena Shepard and by her husband, Noman Foster.
She is survived by her children, Judy (Bill) Hoke of Eagle Point Oregon, Daniel Foster of Las Vegas, Nevada, Norma (Mike) Luquette of Sahuarita, Arizona, Lynn (Deborah) Foster of Cresent City, California and Donna Foster of Kingman. Doris is also survived by her grandchildren Charles, Tammy, Mike Jr., Joshua, Tasha, Rena, Dakota, Patricia, Justin, and Kayce. In addition, she has 14 great-grandchildren with two more on the way and two great-great-grandchildren.
A public visitation will be at Desert View Funeral Chapel on Thursday, May 17, from 4 p.m. to 7 p.m. Public services will also be held at Desert View Funeral Chapel on Friday, May 18 at 2 p.m. Interment will be immediately after at Mountain View Cemetery.