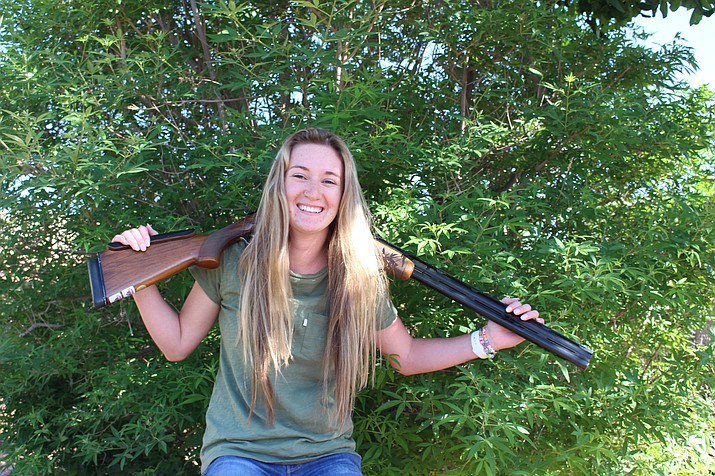 Photo by Hubble Ray Smith.
Originally Published: May 17, 2018 6 a.m.
Sarah Schrade grew up a tomboy, chasing her older brother around on their dirt bikes and hanging out with his friends, as long as she was tolerable.
And when they went quail hunting in the desert and some boy told her she shoots like a girl, well, she was proud to have resembled that remark.
This 17-year-old girl with long, flowing brown hair, a senior at Kingman Academy High School, is Kingman's version of Annie Oakley, outshooting almost all the boys at the Amateur Trapshooting Association state championship the last few years.
Schrade was Rookie of the Year in 2015, won the silver medal in 2016 and bronze in 2017, and she competed in the Junior Olympics shooting trials in Colorado.
"We would go quail hunting and I recognized early on with Sarah, we'd scare up a covey and she'd knock a few down in the air," said her father, Curt Schrade, during a break from installing a barbecue grill for Sarah's upcoming graduation party.
"We'd catch up to the covey again and Sarah proceeded to do this all day long, and then she asked why I shot them on the ground. I recognized then she had a knack for it at 10 years old."
Gun safety
Curt Schrade, a certified shotgun instructor with the National Rifle Association, said he has no qualms putting a gun into the hands of his daughter, or his wife, Michelle. They're responsible shooters, and in today's world, he feels they need protection.
However, allowing a 9-year-old girl who had never shot an Uzi to fire off a few rounds at Last Stop gun range in White Hills was a mistake made by the parents of that girl, the business owners and the instructor who was killed in August 2014, said Ben Moyer, owner of Bank Street Guns.
"It's more about education than anything," Moyer said. "People who are going to be crazy are going to be crazy. There are more people killed by knives and baseball bats than guns when it comes to domestic violence."
Moyer pointed to NRA statistics that show women are the fastest-growing segment of competition shooters and gun buyers. The number of women registered in Bank Street Guns' customer database has grown by about 300 percent in the last three years, he said.
"It is for protection, but I think what's happening is the stigma that guns were guy things is gone," Moyer said. "You're seeing more programs on TV where women are getting into law enforcement, the woman who's a lieutenant on CSI. Ted Nugent's wife has her own show. More women are hunting."
Archery sales skyrocketed after "Hunger Games" as young girls got into the sport, he added.
Beating the boys
The first time Sarah Schrade took a trip to Mile 7 Hill Range in Golden Valley, she hit only nine of 25 targets from the trap shoot.
"I wasn't that good," she said. "We just went out as often as we could."
Schrade joined the Desert Big Horns shooting team, where coach Steve Bell recognized her skill at different levels, and noticed that her biggest handicap was the shotgun she was using.
He generously let the girl use his gun until her father eventually bought it, investing about $5,000 in his daughter's expensive hobby. But he's a proud papa when she shows up the boys at competition.
"It gets weird when you're out there and you hear, 'Oh, it's a girl,' and I'm beating them," Sarah said. "It's more challenging for them than it is for me."
Schrade is seeing more girls competing in clubs at Bullhead City, Lake Havasu City, Prescott and Flagstaff, and the sport itself is gaining popularity, which she said is nice because more girls are getting involved.
But it's still a male-dominated sport. Her Desert Big Horns teammate Boyce Privetts took a lot of first places this year.
Scary world
At Kingman Academy, Schrade's friends talk her up in conversation circles.
She's well aware of the Parkland, Florida, school shootings that stirred students to march nationwide for stricter gun control, and again brought Second Amendment rights to the forefront of national news.
Anyone who wants a gun badly enough can get it, Schrade said.
"It's kind of scary because I don't use guns for those purposes. It's sort of like, for me, it's like taking away a baseball bat from a baseball player. It would suck, but I don't have any political views," she said.
"I think it should stay where it's at, maybe not have full automatic weapons, but I do like a handgun for personal protection and shotgun to go hunting."
Schrade, who's enrolling at Arizona State University in the fall and plans to join the Gun Devils shooting team, sees the movement to take away concealed weapons, but doubts that it will happen. She recently completed a course for concealed carry permit, along with her mom.
"I think it's a good thing to have. It's a scary world right now. When I get older, I will carry, definitely," she said.
Next level
At ASU, Schrade plans to study psychiatric nursing because one of her goals is help people improve their lives. She's also looking forward to traveling with the college shooting team, which pays for her expenses.
She needs to improve her shooting at the international level, where the traps come out at 90 degree angles, 15 feet off the ground and are flying at faster speeds.
Curt Schrade keeps statistics on his daughter's shots, just like a baseball player, and finds her weaknesses, like firing to her left. He changes to harder angles at practice.
You don't need bulging muscles to pull a trigger. Hand-eye coordination is important, and so is breathing, but it's mostly a mental thing, Sarah said. She likes to clear her mind by meditating before competitions.
"I'm a very competitive person," the sharpshooter said. "I probably like the competition aspect the most. It's not the most popular sport, but I like that it's different and unique."