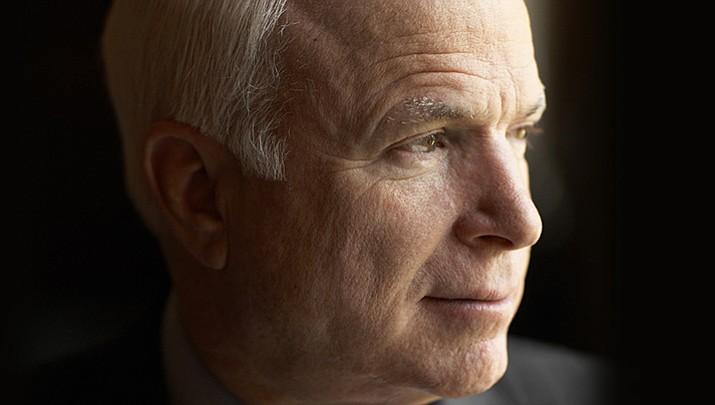 Originally Published: September 4, 2018 6 a.m.
From my earliest memories in life, I was surrounded by politics and politicians. My dad entered the political arena when I was 2 years old, and I have a lifetime of stories as a result. I've had the good fortune to meet many important politicians, including President Ronald Reagan, but it was John McCain who had the biggest political impact of my life.
In 1984, I traveled to Washington, D.C. to tour our Capitol. I was 14 years into my life, and outside of music and sports, I had become a political junkie. My time in D.C. was the first step in solidifying my political credibility as I was able to meet the most important politicians of our time. Outside of Reagan, meeting McCain for the first time changed my life.
McCain met with us along with fellow Arizona Congressman, Jim Kolbe. They began a "back-and-forth" political session explaining the process of government. Unfortunately, I got bored fast, so I quickly raised my hand while Congressman Kolbe was speaking.
"Yes," Kolbe said.
"Congressman McCain, do you ever plan on running for President?" I asked.
The room went silent and McCain shrugged the question off. When they finished, I shook McCain's hand and casually announced that I was going to work for him some day. I, like most, knew he was destined for great things.
In 1987, I assembled a scrapbook of John McCain and presented it to him at a Lincoln Day Dinner. I received a standing ovation and some strong words of encouragement from the senator. Years later, Cindy McCain told me how she read through the entire scrapbook on their flight home. To me, that evening was when I started my journey with a man who would become a hero, mentor, statesman and friend.
In 1988, I graduated from high school and was accepted to military college. What was real exciting was the fact that I would be interning for Sen. McCain in his Mesa office. His office manager, Mary Turner, took me in like family. She explained to all of us what was expected, and she reminded us who we worked for.
I was given boring tasks, primarily answering "snail mail" from constituents and trying to solve their problems. It was necessary work, but I wanted something more challenging. I went to Mary and told her that I wanted to take on more challenging issues. She looked at me, smiled, and slid a piece of paper across her desk and said, "Call this guy, he'll explain everything."
I made the call, and it was to the Commemorative Air Force who were looking for documents pertaining to vintage airplane parts from World War II, and they needed the information to fix their planes. Needless to say, I was unsuccessful.
As I was about to give up, McCain showed up in our office. He gave us a quick pep talk and then went behind closed doors. I stood outside of the door until it opened, and I took the liberty to interrupt his meeting to confess that I needed the Senator's help. What would have most likely gotten me fired at any other office, McCain greeted me with a smile and said, "What do you want you little jerk? And by the way, how are your folks?"
I quickly explained to him the problem and he said to give him five minutes. Twenty minutes later, he was talking to someone in D.C. and we had the information we needed.
"What else, Aldridge?"
I explained to him how there was a 10-year-old girl with terminal cancer whose wish was to have her aunt from Vietnam come over on a temporary visa to see her before she died.
McCain was on the phone with the State Department, and that little girl's aunt arrived within two weeks. It was then and there that I knew McCain didn't judge people or their race, heritage, or ethnicity. He was a pragmatic man who worked hard for his constituents, and it was one of the first examples of McCain's true character I witnessed.
I did another internship the next summer and took some time off after graduating military college. A year went by and out of the blue, I got a message from McCain. He wanted me in D.C. and off I went.
I worked out of the Russell Senate Office Building and saw McCain almost daily. I took the underground train to my office every day and talked to senators every morning. One of the most historic events I had was leaving the Cloak Room one day when suddenly, security came out of nowhere, and I found myself shaking hands with Russia's newly elected president, Boris Yeltsin (I would later tell the story I was so close to him, I could smell the vodka on his breath). I rode the elevator with Ted Kennedy once and shook his hand. He asked me who I worked for and I told him McCain. He smiled and said, "Sorry to hear that." Ironically, he and McCain became very close.
I spent countless times witnessing McCain reaching across the aisle to work with his Democrat colleagues. One of the most notable was when we went to meet John Glenn, the senator from Ohio and famous astronaut. As I sat in awe amongst these two men, to this day I can't recall what was discussed. As we left Glenn's office that day, McCain turned to me and said, "What do you think?"
My reply was, "Up until today, I thought you were the only hero in the Senate." McCain smiled and shook his head. But I meant it, and it was true. It was also the day that I realized McCain placed people above politics, and country over party. It wasn't just a play out of the Reagan handbook, it was character. And McCain and Glenn had character.
The lowest point of my short tenure in D.C. was attending a meeting with McCain and nine other senators. It was a bipartisan meeting and they were there to discuss "reform." As I sat closely behind McCain, I patiently waited while each senator explained why their "issue" should be discussed first. After an hour, McCain got up and said, "Enough! And you guys wonder WHY WE CAN'T GET ANYTHING DONE IN THIS (expletive) PLACE!" And we walked out.
And he was right. And that was the turning point for me. I loved D.C., but I hated the inefficiency of government and so I left. And before I knew it, the call came in. It was McCain.
"Aldridge, we need some help up north with my re-election, and you're the man to do it. Wes (Gullett) will give you the details …"
I was offered a job as a paid staffer for McCain's 1992 re-election bid. There was no hesitation on my part. I was on the campaign trail within days. I never hesitated once, when John McCain called. Never.
Our country has been mourning the loss of John McCain. I am proud that I played a small role in his amazing journey, and he played a huge role in mine. As his plane took off from Sky Harbor International Airport on Thursday, I couldn't help but think that Arizona would never see John McCain again. But I was mistaken. John McCain will live through everyone he impacted for generations to come.

Rest well, Senator. It was the honor of my life.
Mike Aldridge is a former aide to Senator John McCain. To read his article in its entirety, please go to: https://spark.adobe.com/page/fdYIMv59Gfv4p/