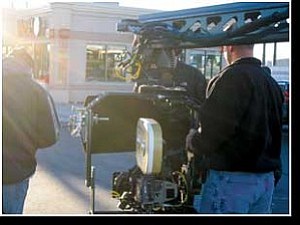 Miner Photo/JENNIFER BARTLETT
Donald Steinberg, left, and Corey Cheketts set the technicrane and camera up for the start of filming Tuesday. Both are crew members for the Revolution Studios and Sony Pictures movie ³Zoom,² a Tim Allen movie set to be released on Aug. 9, 2006.
Stories this photo appears in:
Lights, Camera, Action!
KINGMAN ­ Revolution Studios, in conjunction with Sony Pictures, came to Kingman this past weekend to shoot scenes for their upcoming movie "ZOOM," starring Tim Allen.
By By Jennifer Bartlett
December 15, 2005