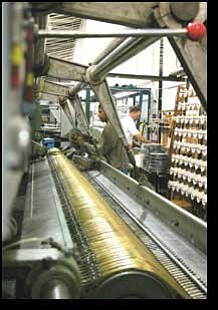 Miner Photo/JC AMBERLYN
Gus Alvarez (left) and Dale Worth work on the knotted netting machine at West Coast Netting Thursday. West Coast Netting is one of 72 different businesses at the Kingman Airport Industrial Park.
Stories this photo appears in:

KINGMAN ­ Worries that the flood of new residents pouring into the area will overrun employment capacity and choke the city's economy are unfounded, said airport economic director Bob Riley, who serves as liaison between the Airport Industrial Park and the bulk of Kingman's major employers.
By By Mark Lewis
December 20, 2005