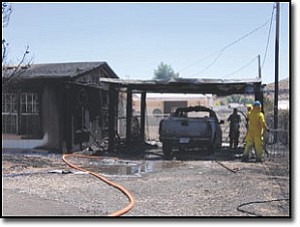 Miner Photo/DONNA NEWMAN
Kingman Fire Department was called out to fight a second fire in the same neighborhood Monday afternoon. This one burned several acres of wildland, a house owned by the mother of one of the firefighters, a pickup truck and several outbuildings in a neighborhood where horses are as numerous as dogs are to most households. The blaze likely started at the freeway easement bordering the affected properties and was fed by wind and abundant fuel in the form of dry weeds.
Stories this photo appears in:

KINGMAN ­ When Bill Johnston of the Kingman Fire Department got the call Monday afternoon of a fire on Sunrise Avenue, he knew exactly how to get to the address. It was his mother's house.
By By Donna Newman
July 6, 2005