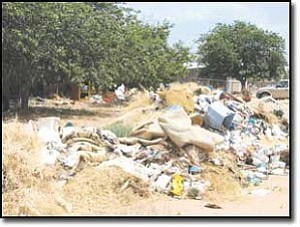 Miner Photo/DONNA NEWMAN
A large pile of garbage and trash sits in front of the Mark Morse home in the 3700 block of Maverick Road in Golden Valley.
Stories this photo appears in:
KINGMAN ­ Mohave County Department of Health warned a Golden Valley couple in June to clean up their property and get rid of their trash or pay a fine of $1,000 a day. The mess is still there.
By By Donna Newman
July 16, 2005