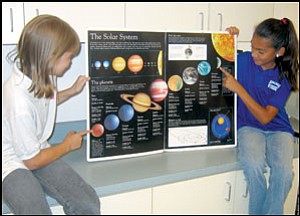 Debbie Snelling, left, points to Pluto, which no longer is classified as a planet. At right, Azalea Juarez points to Mercury, innermost planet in the solar system. The girls are students in Rhonda Gilbert's fifth-grade class at Kingman Academy of Learning Intermediate School.
Stories this photo appears in:

Last week's decision by the International Astronomical Union during a conference of some 2,500 astronomers from 75 countries in Prague in the Czech Republic to remove planetary status for Pluto has led to differing reactions by local school officials.
By Terry Organ
August 28, 2006