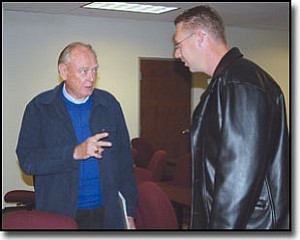 JC AMBERLYN/Miner
Les Byram talks to fellow mayoral candidate Terry Thomson Tuesday night at the Mohave County Administration Building after learning the results of the mayoral election. Byram had 49 percent of the vote, while Thomson collected 19 percent in his first political race.
Stories this photo appears in:

Former mayor just short of winning seat outright
KINGMAN – Voters came out in strong support for mayoral candidate Les Byram in Tuesday's primary election, leaving him about 1 percent of the vote shy of outright winning the Mayor's seat.As of Tuesday night's count, Byram took 49.1 percent of the vote followed by Gates with 31.2 percent. Newcomer Terry Thomson took 19.1 percent, a total of 682 votes.
By By Lorin McLain
March 15, 2006