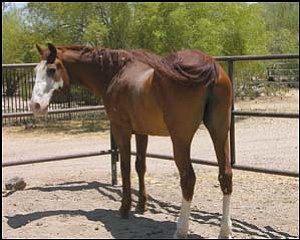 Four months after being rescued, Socks is still about 200 pounds under weight, but much happier. When he originally arrived, his liver was failing and his teeth had grown so much that he could hardly chew. Courtesy
Stories this photo appears in:

Horses and the West seem to go hand in hand. Images of the lonesome cowboy on his horse, wild horses running free or a Native American sitting bareback and staring off into the distance abound.
By Suzanne Adams-Ockrassa
June 6, 2007