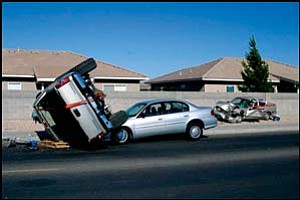 Three vehicles were smashed up at the end of a police pursuit around 4:15 p.m. Tuesday in the 3800 block of north Willow Road. The crash was caused by Robert Edward Runner, 34, of Kingman who was attempting to elude police in a Chevrolet truck, which flipped in the air and landed on a Chevrolet passenger car. Courtesy
Stories this photo appears in:

Pursuit ends with flip
A high-speed police chase through Kingman Tuesday afternoon ended in a three-vehicle collision, sending one car airborne.